TRSA Best Plants Winners Reflect Vigor at Any Age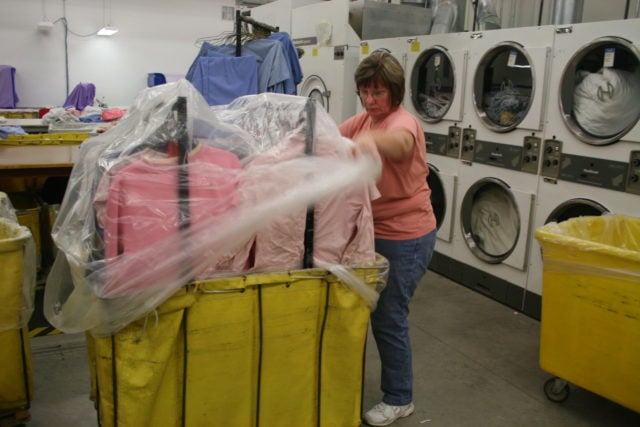 TRSA's selection of its first-ever Best Plants of the Year award reveres linen and uniform service sustainability, honoring operations founded more than 100 years apart for contemporary best practices that reflect their dedication to efficiency and customer satisfaction.
The older laundry, Textile Care Services (TCS), Rochester, Minn., uses just 0.17 gallons of fresh water per pound, producing 32 million pounds per year to serve healthcare, hotel, and food-and-beverage customers on 21 full-time and six part-time routes. Opened in 1915 by the Mayo Clinic and Kahler Hotel, the 96,000-square-foot facility is now part of Healthcare Linen Services Group, which operates nine laundries in four states (Illinois, Wisconsin, Minnesota and Kentucky).
The younger facility, Ecotex Healthcare Linen Services, Kelowna, B.C., Canada, has seen an 80 percent gain in pounds per operator hour in the past three years, hitting 160. Opened in 2017, the 35,000-square-foot facility produces 50,000 pounds per day, serving 80 accounts. Ecotex has five laundries in two provinces (British Columbia, Ontario) and two states (New Mexico, Oklahoma).
TRSA Best Plants of the Year report their comprehensive efforts to improve capabilities to supply, launder and maintain textiles for their business customers. Their applications for this honor describe achievements and surmounted obstacles and cite statistical results across a wide range of indicators from environmental stewardship to productivity improvement.
TCS' most recent upgrades have included a replacement feeder-folder that's tripled pieces per hour. A new soil sort system came online in 2006 and rails were replaced. New tunnel presses were added then as well. The organization, which has 219 full-time equivalent employees, includes a customer service team that visits accounts monthly and tracks clean rejects from each. Its newest information technology (IT) includes a customer relationship management (CRM) system with dashboards and surveys.
The Ecotex facility's largest equipment investment has been in tunnel washers. Its dispensary cart program allows "no fold" on some products that usually would be folded, increasing productivity. The plant's practice of increasing and adding textile inventory to "pre-build" orders six hours in advance of shipment created a standard work model that's decreased time expressing goods through the plant to fill orders "just in time." In IT, the laundry's greatest single investment was its accounting system, with more to come in smarter linen solutions such as linen utilization standardization and bed makeup programs.
The Best Plants accolade, part of TRSA's Leadership Awards series, will be presented March 25 at the TRSA 10th Annual Legislative Conference in Washington, D.C. Other member organizations to be honored that evening include winners of TRSA's awards for community and customer service, diversity recognition, safety and sustainability. For more about the TRSA 10th Annual Legislative Conference, visit www.trsa.org/legcon.