TRSA Clean Show Experience: Networking, Professional Development in The Big Easy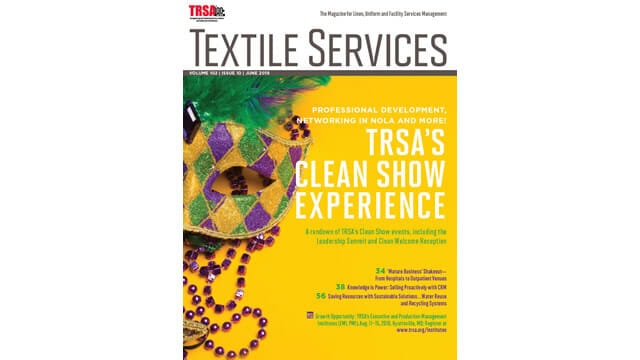 TRSA will host the Clean Show Experience in conjunction with the 2019 Clean Show, June 19-23 in New Orleans. Participate in TRSA's high-value networking and professional-development opportunities when you're not busy visiting exhibits. The TRSA Clean Show Experience combines TRSA's Welcome Reception, networking breakfasts and lunches, and educational sessions.
The signature event in the TRSA Clean Show Experience is the opening reception on June 19, one of the most-anticipated and best-attended networking functions of the year for linen, uniform and facility services operators. Join more than 400 TRSA colleagues to experience a full immersion into the city known as "The Big Easy" at Mardi Gras World Float Den & Grand Oaks Mansion. At Mardi Gras World Float Den, you'll get an up-close look at the behind-the-scenes efforts that go into creating the spectacular parade floats and other New Orleans Mardi Gras traditions. The Grand Oaks Mansion is an awe-inspiring, indoor replica of an antebellum mansion that will transport you back in time for a vintage Louisiana experience, where you'll enjoy cocktails and hors d'oeuvres while enjoying a dramatic view of the Mississippi River.
Continue the TRSA Clean Show Experience June 20-23 at the Morial Convention Center by participating in a variety of networking and educational opportunities developed to connect you with linen, uniform and facility services peers.
Networking Breakfasts and Lunches
Thursday, June 20
TRSA Leadership Breakfast, 7:45–8:30 a.m.—Members of TRSA's Board of Directors, committees and task forces, and other TRSA volunteer leaders are welcome.
TRSA Certification User Groups Lunch, Noon–2 p.m.—Open to members whose plants are certified Hygienically Clean and/or Clean Green. Network with others who are making the most of their certifications.
Friday, June 21
TRSA Young Leaders Breakfast, 7–8 a.m.—"Disruptive HR—Agility in the Workplace" featuring Jean Meeks-Koch, consultant, The Family Business Consulting Group. Meeks-Koch's talk will focus on getting comfortable with the nontraditional; a workforce increasingly external, project-based, flexible and portable. Agile talent means understanding fast and lean strategies that require leaders to think of new ways of accessing and leveraging critical strategic talent and filling critical gaps in strategic capabilities.
Women in Textile Services Lunch, Noon–2 p.m.—"Cultivating Executive Presence and Authenticity to Drive Success" with Dr. Susan S. Fleming, keynote speaker, executive, educator and mother. Fleming will focus on the special challenges women face in showing executive presence. Discover the degree to which you display authenticity in your professional interactions.
Saturday, June 22
Military Veterans Breakfast, 6:45–7:45 a.m.—Designed for industry professionals with military experience, this breakfast will feature World War II and Vietnam veteran Ronnie Abboud as a speaker from The National WW II Museum in New Orleans.
ITSA and NATSO Lunch, Noon–2 p.m.—International Textile Services Alliance (ITSA) and North American Textile Services Organization (NATSO) executives and managers from the linen, uniform and facility services industry who are members of ITSA and NATSO are welcome at this lunch.
Sunday, June 23
Associate Members/Exhibitors Appreciation Lunch, Noon–2 p.m.—TRSA associate member exhibit staff are invited to relax and share experiences as the show draws to a close.
Educational Sessions and Professional Development
Thursday, June 20
Protecting Your Customer, Employee and Business Assets through New and Improved Contracts, 8:30–9:30 a.m.—Review the most updated law contract terms, developments and strategies when it comes to drafting, enforcing and defending contracts with customers, employees, vendors and others. Speaker: Scott Kamins, principal, Offit Kurman Attorneys at Law.
Friday, June 21
Venture Capital and Private Equity, 8–9 a.m.—Discuss the pros and cons of debt-versus-equity financing and evaluate the various financing vehicles. Decide if potential growth is substantial enough to merit an effort to seek sufficient capital. Speakers: Eric Goldberg, chief growth officer, PureStar; and Timothy Shea, managing director and head of the facility services practice, Piper Jaffray & Co.
Labor Law and Compliance: Hot Issues and Trends, 9–10 a.m.—Hear about the newest employment law trends to watch for in 2019 and how you can help ensure that your organization adheres to current and future changes. Get solutions to the latest HR and OSHA regulatory compliance issues. Speaker: Victor J. Marchetti, vice president, Haylor, Freyer & Coon Inc.
Saturday, June 22
Certification: Hygienically Clean, Clean Green, Certified Professional Laundry Manager (CPLM), 8–9 a.m.—Build customer confidence and offer your company a competitive advantage with TRSA's Clean Green and Hygienically Clean certification programs. Learn how your company can meet these rigorous standards and quantifiable measurements, including inspections and testing. You'll also get up to date on the criteria for earning TRSA's Certified Professional Laundry Manager (CPLM) designation. Speaker: Bob Corfield, TRSA Clean Green and Hygienically Clean inspector and president & CEO, Laundry Design Group; and Bill Mann, director of industry affairs (retired), TRSA.
Top OSHA Violations and New TRSA Safety Certification Program, 9–10 a.m.—Learn about the most common OSHA workplace safety violations and how to avoid them. Get details on TRSA's newest certification to gain recognition for your company's Safety and Health programs and enhance your company as an employer and service provider. Speaker: Rick Gerlach, RG Consulting LLC.
The Clean Show will hold the following general sessions on the exhibit floor. For more information, visit the Clean Show website at www.cleanshow.com.
The Future of Marketing: How to Build a Brand that Sells with Social Media
Workplace Risks of Legalized Marijuana?
Business Apps to Make Your Life Easier
Secrets to Chick-fil-A Hiring & Training for Exceptional Customer Service
Tips for Entering the Commercial Laundry Industry
#NotHere: Sexual Harassment Prevention
This year's TRSA Clean Show Experience also provides an opportunity to partake in TRSA's Second Annual Leadership Summit, which will be held at the Hotel Monteleone in New Orleans from 1-5 p.m. on June 19. This summit is thrilled to welcome NFL icon Archie Manning, who will bring his unique perspective on leadership and teamwork to summit attendees. Manning is an author and sought-after speaker on leadership and family dynamics, and he is well-known as the father of Super Bowl champion quarterbacks Peyton and Eli Manning. Reward your company's rising stars with an invitation to network, build relevant leadership skills and get inspiration from Archie Manning. Attendees also will gain better tools to connect with those they lead in Connelly Hayward's workshop, How to Get Buy-in From Those You Lead. The summit will close with a facilitated panel of industry leaders who will share their successes and lessons learned on Succession Planning.