TRSA Committees, Task Forces Preparing to Lead Industry in 2023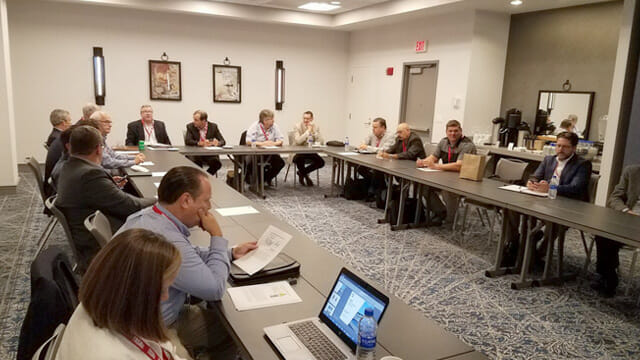 Task forces and a committee to support the industry's efforts in Environmental, Social and Governance (ESG), facility services, information technology and risk management will join the stable of standing TRSA collaboratives in 2023. The new groups add to the range of opportunities for members to collaborate with industry colleagues – both laundry operator and supplier partner members – who share common issues and interests, such as those associated with their specific professions or market segments (laundry user industries).
Members should send an email (kkoepper@trsa.org) or call 540.613.5110 to indicate interest in participating in any of the following groups.
ESG. TRSA Chair Jim Kearns, Alsco Uniforms, is leading TRSA's development as a clearinghouse to improve members' environmental performance and promote greater racial and gender diversity, particularly in their leadership ranks. The task force will identify metrics and formulas to quantify the industry's ESG virtues and develop tools member companies can use to present their ESG qualities to customers, prospective customers and employees, regulators and the public.
Better communicating the "E" of linen, uniform and facility services will make the industry more competitive with other industries, improving positioning of reusable textiles versus their disposable equivalents. Among ways the industry might promote its "S" virtues, TRSA can draw from members' current diversity, equity and inclusion success; for "G," their workplace safety gains attained by management and line employees working together.
The program will be a key TRSA contribution in its work with the national associations of the European Textile Services Association to develop common language and formulas for ESG benchmarking of linen, uniform and facility services globally.
Facility Services. The F&B/Hospitality Committee prompted this group's creation to fulfill the industry's potential to market high-value offerings that meet customers' emerging needs and generate a substantial margin. While linen and uniform companies have long replenished restroom, first aid and air freshening products for customers, COVID-19's impact on public concern regarding hygiene boosted the industry's status as a source of these. The committee believes greater information-sharing among members could help continue that momentum.
The task force could guide members in finding the most underpenetrated facilities for these services, promoting them to prospects' key decision makers, inspiring sales and service teams to tout these products, converting sampling opportunities, matching products to markets that buy them most, and more.
Information Technology. The new IT Committee will discuss issues ranging from cybersecurity and systems integration to automation and digitalization. The committee will identify issues and subject-matter experts to develop content for in-person/virtual events and Textile Services magazine, as well as other areas for cooperation and collaboration.
Risk Management. Anyone involved in risk management and insurance is invited to participate in initial conversations regarding this group's direction. Industry peers in finance, legal and other operations will be welcome for informal discussions regarding industry issues and just to get to know each other better within the industry.
A few industry peers who have seen each other at insurance industry functions see potential for an informal group for occasional discussions. These would "really hone in on what's going on in our industry as it relates to insurance, claims, and issues that can impact our industry surrounding risk management," says Aldo Guerrero, risk management and safety director, UniFirst Corp. Possible topics include loss control, risk financing, alternative risk and ESG.
TRSA's Safety Committee members are likely to form the task force's core, participating themselves or recruiting colleagues from their companies.
Members should consider participating in these standing committees as well:
Diversity, Equity and Inclusion
Environmental & Sustainability
Industrial, Uniform & Workwear