TRSA Defends Members against Patent-Infringement Claims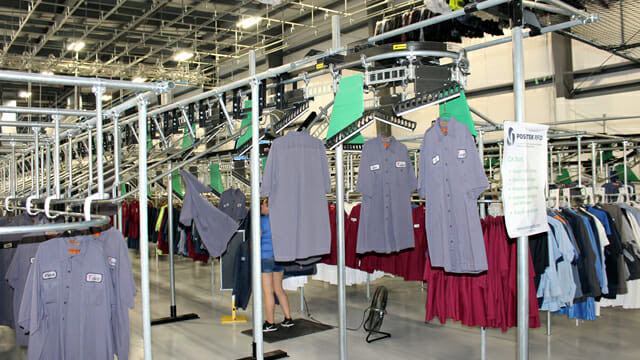 An article that recently ran in the Texas Lawbook details TRSA's ongoing fight to protect its members in the linen, uniform and facility services industry against patent-infringement claims made by a company owned by former NFL star Emmitt Smith.
Smith is the founder of Prova Group, a Dallas-based firm that uses smartphone technology to verify the authenticity of sports memorabilia and luxury consumer goods. Through his lawyers at Jackson Walker, Smith has sent out demand letters to several rental uniform firms alleging the companies' use of inventory rotating and tracking systems violate patents owned by Prova. The letter asks for the recipient to either cease using its own systems or to pay licensing fees to Prova for using its patents. If the recipient declines to do either, Prova warns in the letter, it may file a federal lawsuit.
Prova's legal actions have prompted TRSA to fight back. TRSA has retained Fish & Richardson's Washington, DC, office within the past month to explore all available legal remedies to stop Prova from continuing to threaten TRSA members. If necessary, TRSA President & CEO Joseph Ricci said it will challenge Prova's patents through federal court or agency action, such as the United States Patent and Trademark Office (USPTO).
Ricci said that challenging Prova is "a high-priority issue for TRSA and its legal counsel." He added that, "We're hoping that by beginning the process and showing that we're serious about defending the industry and pursuing the IPRs on these patents that Prova will back down trying to continue to pursue these frivolous lawsuits. Defending this type of lawsuit could easily cost a small company hundreds of thousands of dollars. Our members are forced to settle not because they did anything wrong but because they can't afford to fight."
Preston Heard, a lawyer at Womble Bond Dickinson who is serving as outside general counsel for TRSA in the matter, said his client's decision to get involved is fairly unusual given that it has not appeared as a party or interested party so far in the litigation.
"[The litigation] seeks to threaten an entire industry," Heard said. "[Our role] is to stand up for that industry. I haven't seen a trade association step up in a way that TRSA has."
The Roscoe Company, a TRSA member, is Exhibit A for a business that has no other option but to throw in the towel once challenged by Prova. TRSA said Roscoe, a Chicago-based uniform supplier, settled with Prova for a confidential amount shortly after Prova filed a federal lawsuit in the Northern District of Illinois in October.
Prova's lawyers did not respond to requests for an interview. In its lawsuit, Prova alleged Roscoe's authentication and tracking system infringed on three Prova patents, which utilize radio frequency identification (RFID) technology to track items.
Before the invention of Prova's patented technology, the lawsuit says, inventory tracking systems could not simultaneously track the ownership and "state" of an item — such as whether it was "in stock, sold, deliverable into inventory [or] returned."
Records show that Prova has sent demand letters to other companies as recently as January. TRSA said that other targets are currently in settlement talks with Prova.
Citing trade magazine articles from the early 1990s, TRSA says technology Prova claims it invented was in use more than a decade before the company was formed in 2002.
"These demands appear to be an attempt to use patents directed to a process for authenticating sports memorabilia and overextend them to cover the rental laundry and uniform industry, even though it is clear that the accused types of laundry and uniform tracking, identification and sorting processes were industry standard operating practices for many years before the patents were filed," Heard said.
Moreover, TRSA also argues Prova's infringement claims are just part of a tactic to try to generate new revenue sources, since one of its patents is nearing the end of its term.
In addition to serving customers in hospitality, retail and other sectors, TRSA members also serve industries that are vital to the current virus outbreak — like healthcare. Many companies within the uniform, linen and facility services industry provide personal protection equipment to utility workers and first responders, and barrier gowns for healthcare providers and patients.
Ricci emphasized it would be detrimental to everyone if Prova's litigation caused such a company to cease using its own systems in place. "Our members have to continue to operate, and they can't operate without their systems in place … we're at the breaking point with the COVID-19 outbreak," he said. "We've been deemed essential in areas like San Francisco, where you have people locked in. Our services can be essential — first responders, utility repairs and directing traffic."
It was lost upon Ricci why Smith's company brought the litigation to begin with. "Some of those targeted have asked why a wealthy former professional athlete with multiple successful businesses would take this type of action that threatens the ability of these smaller companies to stay in business and serve the community," he said. "We think this is a fair question to ask."