TRSA Distributes Annual Conf. Fees to Charities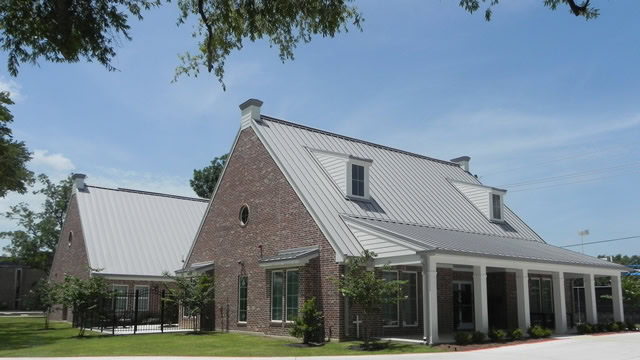 A view of the Anayat House, a nonprofit organization that provides affordable overnight accommodations for family members of patients at local Beaumont, TX, hospitals and anyone traveling to Beaumont for medical care and outpatient treatment.
Roughly $80,000 in registration fees from the TRSA Annual Conference that was canceled in September 2017 are on their way to three charities helping devastated communities and their residents recover from the 2017 Atlantic hurricane season, the fifth most active since recordkeeping began in 1851.
The Annual Conference, scheduled for Sept. 12-14, 2017, in Miami, fell to Hurricane Irma. On Aug. 26, Harvey made landfall in Texas. On Sept. 20, Maria arrived in Puerto Rico. These were the most significant of 10 hurricanes in the region from June 1-Nov. 30, 2017, the greatest number of consecutive such storms there in the satellite era. Recovery is expected to cost nearly $300 billion, twice as much as the last major season (2005), with nearly all of that amount required in areas hit by Irma, Harvey and Maria.
TRSA offered to refund registration fees to Conference attendees but gave them the option to donate these to hurricane relief charities to be identified by members in the afflicted regions. These three have been selected:
Anayat House. This nonprofit organization provides affordable overnight accommodations for family members of patients at local Beaumont, TX, hospitals and anyone traveling to Beaumont for medical care and outpatient treatment. The suggested donation rate is $20 per night; no one is turned away due to inability to pay. Among those who commonly benefit from the house are families of patients in intensive care units and parents with newborns in the neonatal intensive care unit.
Guests were evacuated during Harvey; the house suffered very little damage: "a little bit of water from some leaking in three specific areas," recounted J. Mitchell Smith, the Beaumont attorney who serves as president of the facility's governing board. But the storm forced cancellation of one of its major fundraisers. With so many people suffering in Harvey's aftermath, all charitable groups in the area require additional funding and demand for donations has skyrocketed, putting Anayat House in competition for funding "to keep its operations flowing at the level of quality for which Anayat House is known," Smith added.
Children of Restaurant Employees. CORE grants support to children of parents employed in food-and-beverage service navigating life-altering circumstances; in this case, loss of home, but also other times of extreme strain, such as family death, injury or diagnosed medical condition, or other sudden or extreme circumstances.
In the Florida Keys, countless restaurants, bars, resorts, and hotels will continue to be impacted by the loss of tourism dollars from Irma and its wrath, resulting in financial difficulties for the multitude of service industry workers there. For the families of food-and-beverage employees overwhelmed financially and emotionally in such circumstances, CORE is the nationally recognized community of support, ensuring they feel cared for and valued.
ConPRmetidos. This organization specializes in matching "diaspora" – people who settle away from their ancestral Puerto Rican homeland – with companies there to help them grow. "We connect local entrepreneurs who want to export to leaders in their industry and talented Puerto Ricans abroad with recruiting companies in the island," ConPRmetidos says on its website.
But due to the recent catastrophic damages caused by María, the organization has mobilized its network for long-term hurricane relief. Most of the island is expected to have power by the end of February, but hard-to-reach rural areas may not be back online until May. Such restoration is one of three ConPRmetidos' priorities: the others are long-term structural repairs to the most vulnerable communities and needs assessment efforts.