TRSA-ETSA Members Honored in ETSA Ceremony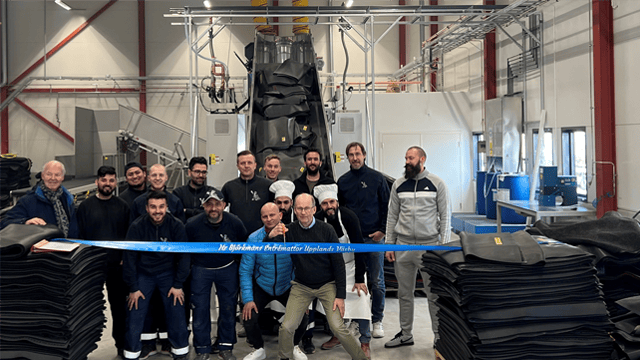 Four TRSA member companies, also members of the European Textile Services Association (ETSA), were recognized with top prizes or nominations in the inaugural ETSA Awards competition in a May ceremony in Rome.
The Best Innovative Project Award went to Helsinki, Finland-based Lindström for its full update and re-launch of its digital workwear solution, "Workwear Flex." This solution tagged workwear to enable traceability and optimize inventory to increase efficiency. Originally, Workwear Flex was predicted to reduce the number of excess textiles by 10-15%. A 2021 analysis showed this reduction could average 40%.
Hr Björkmans Entrémattor, Arlöv, Sweden, won the Sustainable Leadership and Recycling Award for its water recycling project that took nearly two years to develop. It recycles 98%, with projected savings of around 16 million liters (4.2 million+ gallons) annually. With the use of low-washing temperatures and special detergents, reuse increased up to 98%.
Lindström's textile recycling was nominated for the sustainability honor. In 2020, the company aimed to recycle 100% of its textile waste by 2025. In 2021, the company sought to reach carbon neutrality by 2035 in all scopes of emissions. New local recycling partnerships began in 2021 and many new collaborations recently started.
Milliken & Co., Spartanburg, SC, earned a sustainability nomination with "Blacksburg Cogeneration," generating on-demand electrical power on-site from natural gas instead of buying electricity from an inefficient power grid. The project also captured "waste" heat from generating electricity to generate high-efficiency steam, eliminating coal as a primary fuel source. Milliken aims to reduce greenhouse gas emissions by 10% or 60,000 metric tons (66,000+ U.S. tons).
Bardusch Beteiligungen GmbH & Co. KG won the Corporate Social Responsibility Award for"150 Years Bardusch – 150 Projects for a Sustainable Future." It focused on giving back to employees and local communities that have embedded and enabled the company's success over the last 150 years. Every employee at every company site would be given the opportunity to identify a CSR project that Bardusch might support. For example, colleagues in one subsidiary in Poland donated 150 liters of blood; others started an IT Support Café in homes for the elderly.