TRSA Health & Safety Summit Kicks Off with Fleet Focus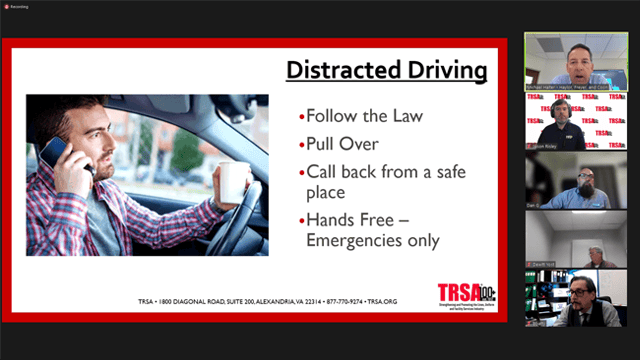 TRSA opened its Health & Safety Summit Series on May 17 with a pair of sessions that focused on fleet safety.
Some 40-plus attendees tuned in for the first day of the virtual summit on Zoom to get practical tips from linen, uniform and facility services industry experts on how to improve safe operations for route service representatives (RSRs). The program included a focus on both preventing incidents while driving and when making deliveries to customers. The first session, "Behind the Wheel," was hosted by Michael Halter, director of loss control, Haylor, Freyer & Coon Inc.; and Daniel Getter, manager of safety operations, UniFirst Corp. The day closed with a session on "Off the Road" presented by Neal Redmond, senior regional safety coordinator, Cintas Corp.; and Dan Rodriguez, director of sales and marketing, Tank Holding Corp.
In the first presentation of the day, Halter and Getter focused on ensuring that your company's route drivers operate their vehicles safely on the road. Specifically, they focused on examining potential candidates' qualifications before making the hire; onboarding, training and evaluation once a candidate is selected; and using safety technologies in your vehicles. Technologies discussed included:
GPS
Dash-cam/event recorders
AI
Blind spot indicators
Backup cameras
In the final presentation of day one, Redmond discussed how to properly maintain and operate liftgates on trucks. Additionally, he highlighted many valuable tools that companies can use to improve safety by reporting near misses when they occur. One he noted is through Microsoft Forms that employees can fill out when incidents occur. Rodriguez wrapped up the presentation with information on how to use laundry carts safely.
TRSA's Health & Safety Summit Series continues with a pair of presentations on May 24 before wrapping up with its third and final day on May 31. For more information and to register for the final two sessions of the series, click here.