TRSA Hits the Road to Visit Members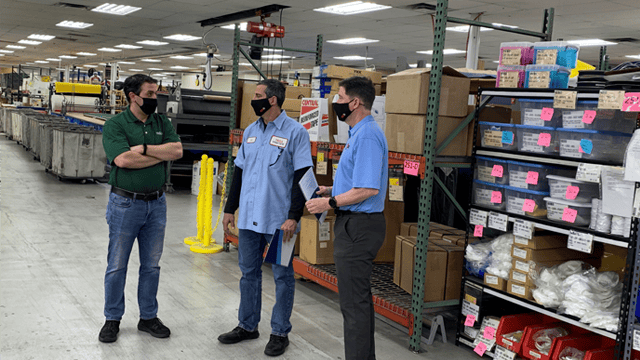 TRSA staff departed the association's headquarters in Alexandria, VA, on April 19 for a week-and-a-half long road trip to visit operator and supplier members across the South and Southeastern U.S. By the time the trip concludes on April 28, the TRSA van will have logged more than 3,000 miles while traveling through seven states and visiting more than 25 member companies.
The road trip, dubbed the "TRSA 2021 Tour" kicked off with several visits in the Richmond, VA, area. The last sighting of the TRSA van carrying staff members Joseph Ricci, Tom Newell, Kevin Schwalb and Ryan Kiernan was in Memphis, TN.
Stops during the first week of the road trip included:
HandCraft Linen Services, Richmond, VA
Prudential Overall Supply, Colonial Heights, VA
Halifax Linen Service, Roanoke Rapids, NC
Leonard Automatics Inc., Denver, NC
Crown Health Care Laundry Services LLC, Spartanburg, SC
Tingue, Peachtree City, GA
M+A Matting, LaGrange, GA
NuMat Systems, Rock Mills, AL
M&B Hangers, Leeds, AL
Landau Uniforms, Olive Branch, MS
UniFirst Corp., Memphis, TN
Alsco Inc., Memphis, TN
Follow TRSA on its Facebook, Instagram, LinkedIn and Twitter channels for more updates from the #TRSA2021Tour.