TRSA Holds Bipartisan Meetings on Capitol Hill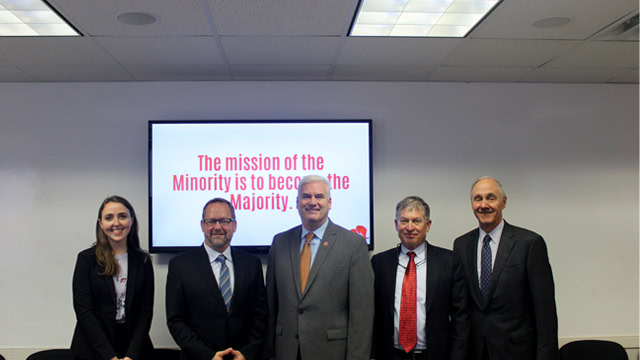 TRSA, the association for linen, uniform and facility services, recently met with members of Congress from both sides of the aisle during its TRSAPAC Fly-In Meetings on Dec. 10-11. The meetings kicked off on Dec. 10 with a networking dinner with Rep. Rodney Davis (R-IL) and continued the next morning with several meetings on Capitol Hill.
The Dec. 11 meetings got underway with a discussion with Danny Kazin, the deputy executive director of the DCCC, or Democratic Congressional Campaign Committee, the official campaign arm of the Democrats in the House of Representatives. Kazin gave an update on several races the Democrats have their eye on heading into the 2020 election season, and he detailed the Democrats' strategy to hold onto their majority in the House.
After Kazin wrapped up, Rep. Scott Peters (D-CA) met with the Fly-In attendees to talk about the New Democrat Coalition, a group of 103 forward-thinking Democrats who are committed to pro-economic growth, pro-innovation, and fiscally responsible policies. Rep. Peters answered questions on several issues of importance to the TRSA members in attendance, including marijuana legalization and its effect on business, ongoing trade disputes and their effect on business, and more.
The next meeting of the morning involved another member of the New Democrat Coalition, Rep. Ann Kuster (D-NH). Rep. Kuster had a lengthy conversation with the TRSA members in attendance about the linen, uniform and facility services fleet and how infrastructure issues affect their company's ability to make timely pickups and deliveries of uniforms, linens and other goods. TRSA supports a 20-cent-per-gallon fee on motor fuels – collected at the wholesale rack – as a way of raising funding for investment in roads and bridges. Rep. Kuster also discussed environmental issues such as PFAS (per- and polyfluoroalkyl substances) at length.
The meetings wrapped up with a visit to the National Republican Congressional Committee (NRCC) headquarters. The NRCC is a political committee devoted to increasing the number of Republicans in the U.S. House of Representatives. Justin Richards, the NRCC political director, gave the TRSAPAC Fly-In attendees an update on the party's chances of flipping the House back to Republican control. Richards focused on new candidates the committee has recruited, fundraising and potential opportunities to win back seats in the House. NRCC Chairman Tom Emmer (R-MN) stopped by the meeting as well to introduce himself and give an update, before being called to a meeting at the White House to brief President Donald Trump with the latest news on the party's chances in several key districts.
To read more about the TRSAPAC Fly-In dinner meeting with Rep. Davis, click here. For more information on TRSAPAC, click here.