TRSA Holds In-Person Event for Industry Leaders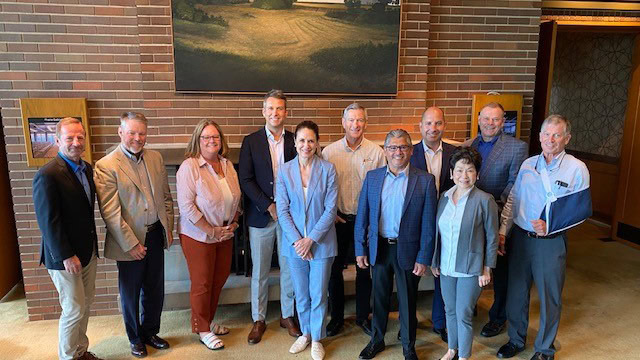 TRSA held its first fully in-person events since February 2020 when it hosted more than 50 linen, uniform and facility services professionals for its July 20-22 Leadership Meetings outside Chicago. The meeting included its Strategic Planning Committee, Next-Generation Executives Workshop and Board of Directors meetings, as well as its first-ever Supplier Partner Council event. The week also included a dinner for all participants, as well as a Top Golf reception.
The week kicked off on Tuesday morning with TRSA's Strategic Planning Committee that received updates on TRSA's Vital Few Objectives (VFOs), advocacy efforts and core initiatives. In addition, the committee received a presentation from Yes& Co., the marketing agency retained by TRSA to conduct qualitative and quantitative research on member customer and prospect decision-makers and influencers, employees and potential employees, and consumers. The research will be developed into targeted industrywide messaging to expand the market for reusable textiles, and recruit and retain employees. Following these presentations, the committee brainstormed industry challenges and opportunities to develop a final short-list of initiatives for the development of the organization's FY2022 budget including:
Advocating for the industry at the federal, state and local levels
Promoting the industry emphasizing hygiene and supply chain, and environmental sustainability
Improving employee recruitment, retention and training
Focusing on Environmental Social Governance (ESG)
Increasing engagement and access to TRSA's curated information-sharing and industry-specific resources
The committee, chaired by TRSA Vice Chair Jim Kearns, Alsco, includes:
Michael Croatti, UniFirst
Theresa Garcia, Division Laundry
Greg Gurtler, Gurtler
Jay Lazaroff, Clean Uniforms
Blake Montgomery, Performance Matters
Rudi Moors, Christeyns
Keith Nichols, HandCraft
Rob Potack, Unitex
Andrew Steiner, Alsco
David Tingue, Tingue Brown
Josh Wildman, Wildman Uniform & Linen
The TRSA Supplier Partner Council held its inaugural meeting on Tuesday afternoon followed by a hosted dinner for nearly 60 guests that included members of the Strategic Planning Committee, as well as Supplier Partner and Next-Generation Executives Workshop attendees. Click here to read more about TRSA's Supplier Partner Council Workshop.
On Wednesday, TRSA hosted its Seventh Annual Next-Generation Executives program, including a facilitated, interactive workshop based on the best-selling book The Five Dysfunctions of a Team by Patrick Lencioni. The program was facilitated by Dan Gonder, Six Disciplines, and helped participants develop actionable tools and techniques to enhance trust, conflict, commitment, accountability and results within their teams. Participants included:
Peter Brown, Mickey's Linen
Julia Buik, Roscoe Co.
Steve Cooker, Infinite Laundry
Bob Fesmire, Ellis Corp.
Tyler Fowler, M+A Matting
Theresa Garcia, Division Laundry & Cleaners
Jake Gurtler, Gurtler Industries
Justin Hearld, ARCO/Murray
Tony Jackson, Kannegiesser ETECH
Blake Montgomery, Performance Matters
Rudi Moors, Christeyns Laundry Technology
Jeyur Patel, Venus Group
Farley Salmon, Sigmatex-Lanier Textiles
Tony Schult, Kannegiesser ETECH
Andrew Steiner, Alsco
Kasey Wahl, WSI
Sarah Wrubel, CLS/Continental Linen Services
Following the workshop, participants were joined at Top Golf by members of the TRSA Board of Directors and the Supplier Partner Council.
On Thursday, TRSA hosted its first in-person Board of Directors meeting in more than 18 months. The Board had a full agenda including reviewing year-to-date financials and performance metrics, advocacy updates, committee reports, nominations for the 2021 director candidates and strategy discussions, as well as participating in a small-group facilitated workshop on Understanding/Developing Hungry, Humble, Smart led by Gonder.