TRSA to Host Online Executive Exchange Oct. 27-28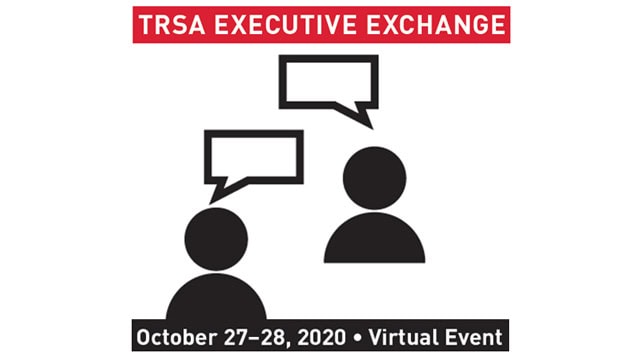 For the past several years, TRSA's hosting of Executive Exchanges for its operator members and associate supplier partners have been consistently praised as an efficient use of resources by those on both sides of the meeting table. This fall, TRSA is offering an online version of the Executive Exchange to its members on a first-come, first-served basis during Oct. 27-28 – just in time for 2021 planning.
Both operator members and supplier partners alike view Exchange participation to be an efficient use of time. "I was pleasantly surprised at how much we were able to accomplish with current and potential customers in just fifteen minutes per meeting. I highly recommend the Exchange and look forward to participating again next year," said Farley Salmon, director of sales, healthcare division, Sigmatex-Lanier Textiles. Randy Bartsch, CEO of Ecotex Healthcare Linen Services observed that "The Exchange has been valuable to our business…we met new vendors that we will do business with and reestablished relationships."
Linen, uniform and facility services management professionals – owner-operators, executives, directors, general, plant and purchasing managers and other laundry-based department heads – can seize opportunities to participate with associate supplier partners for a series of 15-minute private meetings to discuss pressing challenges and product innovations or solutions. Participants commit to online meetings over a two-day period, resulting in approximately a two-hour total time investment in short meetings on Oct. 27-28. Operator members who register will answer a short qualifying questionnaire and then gain access to the online meeting scheduler with their preferred associate supplier partners. Full participation in the Executive Exchanges also makes TRSA operators eligible for one of three generous participation-based incentives.
"While we miss the interaction and in-person fellowship that our live meetings provide our members, we are grateful that technology allows us to continue TRSA's tradition of providing opportunities to match operator members with supplier partners," said Joseph Ricci, CAE, TRSA president and CEO. "We know this year's efforts will result in mutually beneficial, online engagements."
Previous Executive Exchanges hosted during TRSA Annual and Healthcare Conferences have included nearly 75 associate supplier partners and nearly 110 linen, uniform and facility services decision-makers. The October event will again leverage TRSA Executive Exchange proprietary scheduling software and the interactivity of Zoom meetings to facilitate meaningful discussion about industry problems and solutions.
To learn more about the Executive Exchange, including registration deadlines, operator incentives and the list of participating associate supplier partners, visit www.trsa.org/exchange.