TRSA Hosts Greater New York Chapter Planning Meeting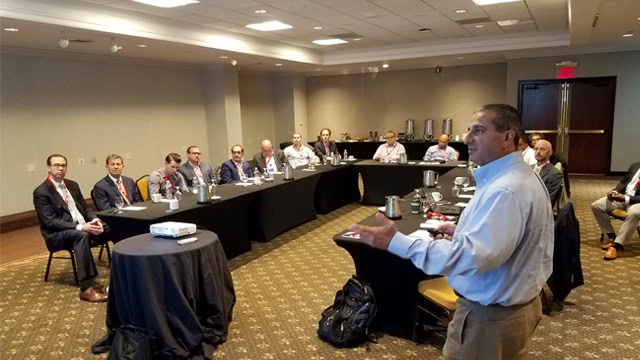 Representatives from linen, uniform and facility services companies operating or servicing New York recently met to discuss legislative and regulatory issues impacting their businesses, as well as opportunities to increase engagement and value. While the focus was primarily on issues impacting New York, members tasked TRSA with developing a more "consistent" forum for gathering and sharing information regarding potential federal, state and local tax development and employment incentives, investment rebates, compliance and other opportunities to improve operations.
TRSA political consultant Paul Thomas, partner, The Parkside Group, highlighted financial incentives offered for local municipalities which prompted a discussion of rebates for "green" initiatives such as relighting facilities and energy-efficient equipment. "Based on the current and near future composition of New York state and city government," Thomas said. "We need to become more active locally, meeting with legislators and council members in their district and touring facilities with an emphasis on the green aspects of our industry's operations such as reduced energy and water consumption and reusables."
Kevin Schwalb, TRSA's vice president of government relations, discussed the latest developments at the federal, state and municipal levels including the finalization of the U.S. Department of Labor's Overtime Rule effective Jan. 1, 2020, that raises the salary threshold to $684 per week or $35,568 annually; discussions with the EPA regarding water discharge containing PFAS and microplastics; infrastructure investment; and TRSA-led initiatives to reduce taxes in Texas and Missouri and add payroll deductions for uniform rental in Indiana.
Thomas and Schwalb discussed TRSA's success limiting the impact of the CLEAN Act and the New York State legislature's passing of the nation's first Congestion Pricing plan with other major cities such as Chicago, Los Angeles and San Francisco likely to follow. The MTA Bridges and Tunnel Authority has been charged with appointing the Congestion Pricing Board this fall to deliver a plan by November 2020 to be implemented Jan. 1, 2021. The plan's objective is to fund the subway repairs by generating approximately $15 billion annually from vehicles operating within the business zone below 59th Street in Manhattan. TRSA is working to influence the selection of the panelists developing the plan to fund the MTA by highlighting the importance of deliveries based on customer demands that fuel the economy and the lack of impact taxing linen, uniform and facility services industry vehicles will have on congestion.
In addition to advocacy, Joseph Ricci, TRSA president & CEO, reviewed the organization's strategic initiatives developed by the Strategic Planning Committee and Board of Directors including leveraging TRSA's technology to improve engagement and information-sharing by members; promoting the environmental benefits and other positive aspects of the industry to customers; partnering with non-industry organizations to explore automation, robotics and other efficiency-enhancing initiatives; and generating awareness of the industry's career opportunities to attract and retain, as well as developing training programs to develop the next generation of management and skilled labor.
The meeting was TRSA's second event in New York this year following the March 2019 Legislative Conference in Albany and the organization's first "chapter" program based on regional interests. During this meeting, the group agreed that TRSA should continue to host two or more events in New York, including a spring Legislative Conference and Fall program. TRSA also is launching a chapter in Texas and considering additional state or regional organizations both domestically and internationally.
"Our members want to network and share information with local, national and international colleagues," Ricci said. "And we are developing a variety of channels to increase these interactions whether face-to-face or online based on common interests and markets, as well as industry-wide concerns such as safety, labor and compliance."
Following the meeting, participants attended the NHL's New York Rangers opening night at Madison Square Garden and watched the hometown team defeat the Winnipeg Jets. Attendees included:
James Adler, Owner, LinenMaster
Peter Berrio, Vice President of Sales, Diamond Chemical
Robert Clark, Branch Manager, UniFirst Corp.
P.J. Dempsey, President, Dempsey Uniform & Linen Supply
Steve Fisher, Manager, Churchill Linen (Elmsford)
David Goldman, UWH Industries
Peter Goldman, UWH Industries
Anthony Magliocco, Operations Manager, Arrow Linen Supply
John Magliocco, President, Arrow Linen Supply
David Potack, President, Unitex
Jason Pourakis, Partner, Mazars
Mike Ruopoli, Director of Operations, American Wear
Ryan Smith, Owner, LinenMaster
Allan Stock, President & CEO, National Dust Control
Bryan Stock, Vice President, National Dust Control
Paul Thomas, Partner, The Parkside Group