TRSA Hosts Info Session on Massachusetts Waste Ban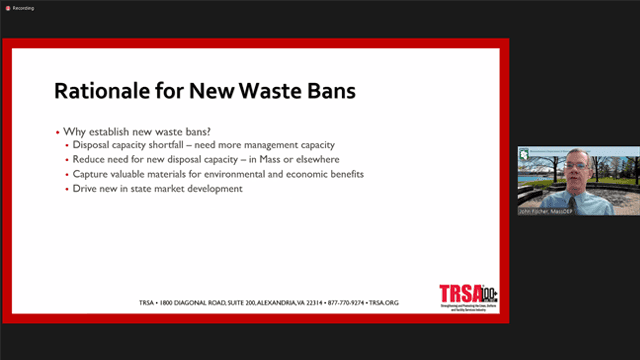 In light of the Massachusetts Department of Environmental Protection (DEP) expanding their waste-disposal ban to include textiles, TRSA hosted an hour-long information session on Jan. 25 to discuss the impact on the linen, uniform and facility services industry.
Joining TRSA's Vice President of Government Relations Kevin Schwalb on the call was John Fischer, the deputy division director for solid waste materials management at the Massachusetts Department of Environmental Protection.
In addition to mattresses and an expansion of an existing ban on food waste, the Massachusetts DEP included textiles on its latest list of materials that are banned from disposal or transport for disposal in the state of Massachusetts. The list includes clothing, footwear, bedding, towels, curtains, fabric and similar products, except for textiles that are contaminated with mold, bodily fluids, insects, oil or hazardous substances. This includes textiles from residential and commercial sources. However, enforcement likely will focus on commercial operations.
Fischer noted that the goal of the waste ban is to achieve compliance and work with industry stakeholders such as TRSA to raise awareness so that area companies can work to achieve compliance with the directive. He noted that RecyclingWorks in Massachusetts is a free statewide assistance program that is an option for those seeking assistance in complying with the regulation. For more information, visit www.recyclingworksma.com.
The call concluded with a discussion of the implementation of the regulation, as well as the potential for waivers from the waste ban. To view the full recording in TRSA's On-Demand Learning Center, click here. If you have any questions about compliance with the waste ban, contact Schwalb at kschwalb@trsa.org.