TRSA Hosts In-Person, Virtual Annual Conference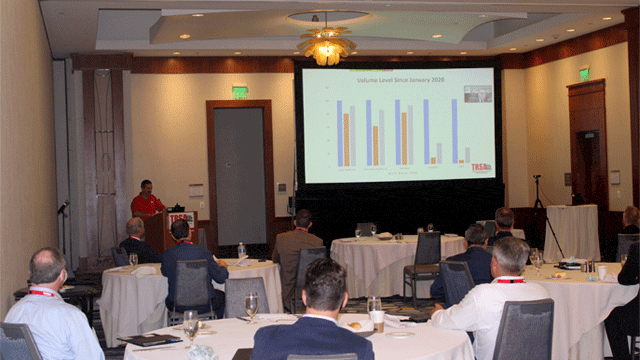 Due to travel restrictions stemming from the ongoing COVID-19 pandemic, TRSA recently hosted its 107th Annual Conference with limited content on Oct. 21-22. Hybrid in-person and virtual events included a Board of Directors Meeting with several board members attending in-person and an Annual Business Meeting at The Westin in Alexandria, VA.
The Annual Business Meeting was held on Oct. 22. Roughly 30 linen, uniform and facility services executives attended the meeting in person, with an additional 50 joining via a Zoom video conferencing link. The meeting featured the following content:
State of the Association
Government Relations Update
Financial Update
Board Recognition
New Officers and Directors
TRSA President & CEO Joseph Ricci kicked off the meeting with a rundown on the industry by market sector following the impact of the COVID-19 pandemic, as well as a recap of the association's response in guiding the industry through the COVID-19 crisis and economic shutdowns. Jim Buik, TRSA chair, detailed TRSA's strategic planning process and several initiatives moving forward into 2021.
Kevin Schwalb, TRSA's vice president of government relations, followed Buik with an in-depth recap of the association's response to the COVID-19 pandemic from an advocacy standpoint. Schwalb highlighted several meetings, including a briefing on the benefits of reusable healthcare textiles with Vice President Mike Pence (R) and the COVID-19 Task Force, that TRSA held to keep its member operator and supplier partner companies operating when the pandemic hit.
After Schwalb's review of government relations initiatives, TRSA Vice President of Operations Tom Newell briefed attendees on the current financial state of the association, as well as its outlook moving forward into 2021. Buik then wrapped up the meeting with a recognition of individuals cycling off the board, as well as an introduction to the board's new chair, Noël Hammer Richardson, as well as several new officers and directors. Click here for a full recap of the new board members from the Annual Business Meeting.
A socially distanced networking happy hour and dinner took place on the evening of Oct. 22 to close out the event.