TRSA Hosts Webinar on Improving Plant Productivity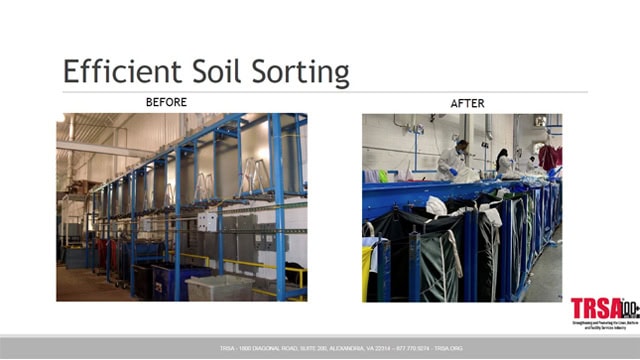 Click Here to View the Webinar
TRSA's three-part webinar series on "Workwear and Facility Services" recently continued with the second installment, titled "What's New in Productivity Improvements?" The hour-long webinar looked at best practices for productivity, with a focus on engagement, efficiency and equipment.
Panelists included Doug McGarry, plant manager, Paris Uniform Rental – Dubois; Kyle Newsome, supply chain manager, CLEAN – The Uniform Co.; and Jay Rasmussen, president, Rasmussen Consultants. Tom Abbett, business development, Positek RFID, served as the moderator for the webinar.
Rasmussen kicked off the presentation by discussing how to successfully implement technology in your facility, with three key insights, including:
Think big, start small, move fast
Change management
Simplify, standardize and automate
Newsome talked about productivity improvements at CLEAN, such as implementing a Positek Sort System, installing an Ergocon Automated Bagger, utilizing RFID in linens and improving the soiled linen sorting process. The benefits of these changes have resulted in 2,500 square feet of space gained on the plant floor, adding routes and sales growth without expansion, and six FTEs (full-time employees) no longer needed for the sorting process.
McGarry followed up by discussing improvements at the Paris Cos. facility in Dubois, PA, based on his expertise in the area of operations. While he was unable to appear live on the webinar, McGarry recorded a question-and-answer session with Abbett that aired during the presentation.
TRSA has an on-demand learning library that will allow you to "live stream" all of the association's webinars. TRSA members can purchase webinars, and other training and educational resources at a reduced member price. Visit www.trsa.org/ondemand to go to TRSA's On-Demand Learning portal to view this webinar and more.
TRSA's next webinar, Global Textile Services Market Analysis, is scheduled for Sept. 29 at 9 a.m. EDT. Click here for more information and to register.