TRSA Hosts Webinar on Job Analyses Reports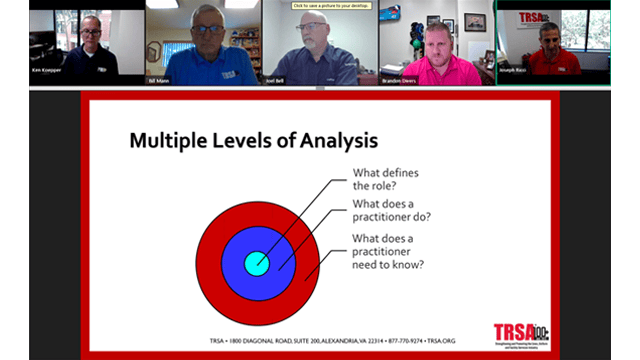 TRSA's latest webinar presentation, titled "Production and Maintenance Manager Job Analyses," highlighted the association's recently released Maintenance Manager Job Analysis Report and the Production Manager Job Analysis Report. Both items are available at www.trsa.org/store.
The hour-long webinar included a trio of panelists in Joel Bell, senior manager, reliability and maintenance, at UniFirst; Brandon Divers, general manager at Alsco Inc.; and Bill Mann, director emeritus for industry relations at TRSA. The webinar was co-moderated by Joseph Ricci, president & CEO at TRSA; and Ken Koepper, director of membership and industry outreach at TRSA.
The webinar kicked off with an overview of the job analysis study process and also highlighted the task force members that provided guidance and subject-matter expertise for both the Production Manager and Maintenance Manager studies. The panel then discussed the Top 10 Production Manager tasks by importance, as well as the Top 10 Maintenance Manager tasks.
The Production Manager list included managing quality control and production efficiency, scheduling workflow and more. The list for Maintenance Managers included, among other tasks, implementing and maintaining maintenance of the machinery and facility, directing and assisting the maintenance staff, and establishing and enforcing safety standards of the plant and its personnel.
To view the full list and more insights from the panelists, visit TRSA's On-Demand Learning center at www.trsa.org/ondemand to access the full recording of this webinar presentation. Additionally, the On-Demand Learning Center features more than 150 industry-specific professional development and training webinars, videos and e-learning courses on a range of issues including emerging regulatory/compliance requirements, safety best practices and strategies for enhancing productivity. Many of the training resources are free to members.
Finally, check out TRSA's webinar calendar at www.trsa.org/calendar for a complete list of upcoming webinars and events, including TRSA's May 25 webinar, titled "Cybersecurity Best Practices: Protect Your Company & Your Employees." Click here to learn more and to register.