TRSA Industrial Roundtable: COVID-19, Labor Shortage & More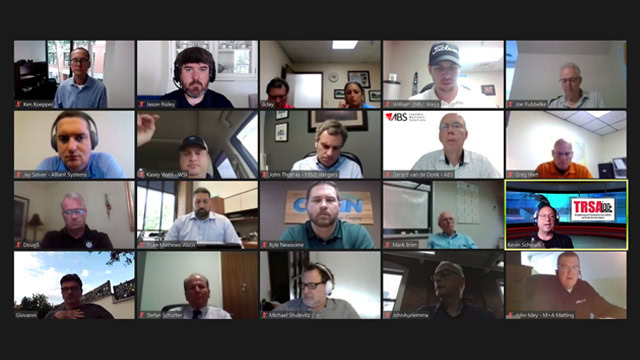 TRSA recently hosted a roundtable for industrial operators and supplier partners to this critical market sector of the linen, uniform and facility services industry. More than 40 executives tuned in and participated during the June 8 meeting, which was hosted on the Zoom video conferencing platform.
The discussion was facilitated by Ken Koepper, TRSA's director of membership and industry outreach. He was joined on the call by Kevin Schwalb, TRSA's vice president of government relations, who kicked off the virtual gathering with a rundown of the latest government relations initiatives that he is currently working on.
Schwalb discussed the following topics and more:
Per- and polyfluoroalkyl substances (PFAS) action by the U.S. Environmental Protection Agency (EPA)
COVID-19 vaccination requirements by employers and incentives for employees that get vaccinated
President Biden's COVID-19 relief package and its effects on employment, including enhanced unemployment benefits
Reusable healthcare personal protective equipment (PPE) and the importance of having a stockpile on hand in disaster scenarios
TRSA's collaboration with TSA-UK, ETSA and other national associations to study the effectiveness of the industrial wash process to kill the SARS-CoV-2 virus on various textile goods, and how the industry should highlight these findings moving forward
Following Schwalb's overview of government relations, each of the members of the Industrial/Uniform/Workwear Committee introduced themselves to the group. Gerard van de Donk, CCO, ABS Laundry Business Solutions, highlighted the committee's upcoming webinar series on Improving Route Stop Performance. The first of three webinars kicks off on June 23 at 2 p.m. EDT with a presentation titled "Improving Route Performance – Uniforms." The first part of the series features a panel discussion on maximizing uniform rental performance by offering a wider variety of services related to uniforms. For more information on the June 23 webinar, click here.
A survey prior to the roundtable set the topics for discussion at the event. Topics included:
Tracking chain of custody and cleanliness status of items in service
Recruiting employees, while overcoming COVID-19 impacts on staffing
How COVID-19 opened new industrial markets
Best practices in the plant and on the route for ensuring timely deliveries to customers
Trends in fabric types used today and what the future holds
How to minimize productive labor costs
TRSA is hosting a series of virtual roundtables for each sector served by the linen, uniform and facility services industry. The next roundtable discussion for F&B/Hospitality will take place on July 14 at 1 p.m. EDT. Click here for details.