TRSA Industry Update – Policy Wins, Proactive Strategies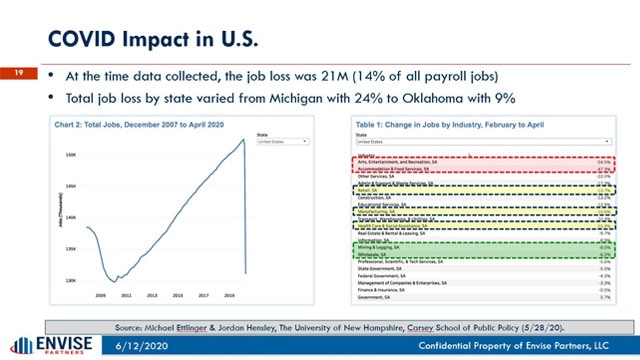 The latest edition of TRSA's online Industry Update featured a diverse lineup of news and information that can help laundry operators and suppliers battling a multifront war against the COVID-19 pandemic and what's shaping up as the worst recession in living memory.
The economic pain is worse in some quarters of the linen, uniform and facility services industry than others. Specifically, food-and-beverage (F&B) laundries have seen their prospects drop off a cliff amid restaurant closure orders designed to "flatten the curve" of the pandemic that struck full-force in March. Now, as states and municipalities begin lifting the restrictions, attention has shifted to how the reopening process will proceed. TRSA Vice President of Government Relations Kevin Schwalb offered a piece of welcome news at the June 11 Update webinar by noting that both federal and state authorities have agreed that reusables are an acceptable accessory for restaurants. This includes the lone holdout, Kentucky, which in a previous guidance document had limited restaurants to disposable goods only.
"The speed of policy happens at its own pace," said Schwalb, who's advocated to scores of jurisdictions about the safety and environmental benefits of reusable table linens. "It can drag on for many years or it can pop up in just a few hours." As it turned out, the week of June 8 brought F&B operators a victory in the Bluegrass State. "The worst state up to this point was Kentucky," Schwalb said to the 50-plus online webinar attendees. "It did not allow for any reusable table linens. Well, I'm glad to say that that has changed. Yesterday (June 10), Kentucky announced new restaurant-opening guidance that does allow for the use of cloth reusable table linens in restaurants. So far of all states issuing guidance, reusable table linens have been an acceptable practice in all of them. So, I'm excited about that."
Schwalb had additional positive news for the entire linen, uniform and facility services industry: a loosening of restrictions related to the Paycheck Protection Program (PPP) that gives business operators greater flexibility in using federal aid created to help them survive the pandemic. Last week, Congress approved and President Donald Trump signed the Paycheck Protection Program Flexibility Act, he said. Key provisions include:
An extension of the loan "forgiveness" period (i.e., a conversion to a grant) from eight to 24 weeks, or until the end of 2020.
A shift in the ratio of federal funds that recipients must use for payroll to qualify for loan forgiveness from 75% to 60%. This allows businesses to spend 40% of the PPP money on qualified nonpayroll expenses such as rent and insurance.
The bill also gives businesses full access to payroll deferment, a major concern for many cash-strapped companies.
Schwalb noted that the PPP nonpayroll expense provisions do include reusable table linens, and F&B uniforms that restaurants rely on to keep their customers safe and comfortable.
Speaking of food-service garments, TRSA Senior Editor, Digital/New Media, Jason Risley unveiled a new TRSA 34-second animation that highlighted in the simplest terms how reusable garments are distributed, worn, laundered, picked up and returned to restaurant customers by laundries. The animation is available online at www.trsa.org/fb-reopening. Any TRSA member who'd like to customize the animation with their company logo and contact information should contact TRSA's Sharon Sheldon at ssheldon@trsa.org.  TRSA President and CEO Joseph Ricci added that TRSA has shared the animation with other linen, uniform and facility services associations in Europe. The garment animation has already received several thousand views in translated editions that have aired in Germany and France.
With TRSA providing so many proactive strategies to help companies cope with the pandemic and related shutdowns, Ricci said it's no shock that TRSA's Net Promoter Score (NPS) saw an uptick in a recent member satisfaction survey from 61 to 69 (any score above 50 is considered excellent). The NPS metric is a popular measure of customer satisfaction. It's calculated by taking the percentage of respondents who are considered promoters (a rating of 9 or 10) and subtracting from the percentage of respondents who are detractors (1-6). "We're really happy about members approving of what we've done," Ricci said. "I think a lot of this is based on the activities we've undertaken since mid-March during the COVID crisis. We've done over 30 webinars and programs."
To add even more value to this information-packed 45-minute webinar, TRSA hosted a guest speaker, financial analyst and AmeriPride veteran Mark Kowalski. He gave a presentation on a recovery strategy that companies can use as a guide to restore profitability as they work through the COVID-19-related downturn. Kowalski, a 12-year corporate finance executive with AmeriPride, oversaw more than 50 acquisitions during his tenure, including the $1 billion sale of AmeriPride to Aramark. He now serves as the managing partner and founder of Envise Partners in Plymouth, MN. During the webinar, Kowalski presented a recovery plan for companies based a critical review of fixed and variable costs, as well as earnings before interest, taxes and depreciation (EBITA). Using a hypothetical $10-million-a-year company, Kowalski described how companies need to focus on growth, rather than simply cutting expenses, in order to survive the recession and return to growth.
Kowalski's detailed slides – as well as those of the other speakers – are available on TRSA's website, along with nearly 150 other webinars and educational resources. TRSA's on-demand learning library allows visitors to "live stream" all of the association's webinars. TRSA members can purchase these webinars and other training and educational resources at reduced prices. Visit www.trsa.org/ondemand to go to TRSA's On-Demand Learning portal to view this webinar and many others. TRSA's Industry Updates recently switched to a bimonthly format. The next edition of the Update is expected to air on June 25, unless urgent news requires TRSA to schedule an edition sooner.