TRSA Issues Regional Textile Services Market Analyses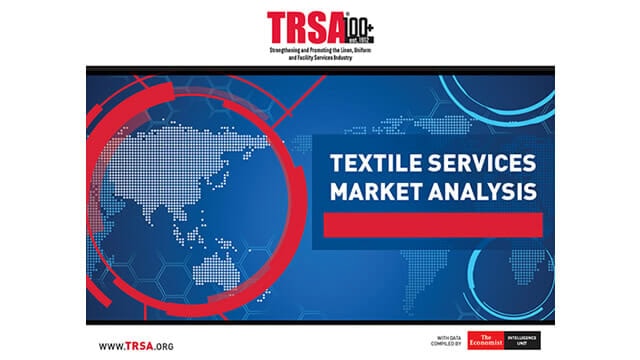 Forecasts for linen, uniform and facility services' growth in critical demand sectors in the wake of the COVID-19 downturn are now offered by nation or world region through the issuance of regional editions of data provided by The Economist Intelligence Unit's (EIU's) Global Textile Services Market Analysis. This analysis, commissioned by TRSA, provides a clear picture showing how demand is driven for the industry's services specific to certain parts of the world. The research is now available in these regional editions:
Asia-Pacific, featuring nation-specific profiles of Australia, China, India and Japan
Latin America: Brazil and Mexico
Western Europe: France, Germany, United Kingdom
Middle East and Africa: Saudi Arabia, South Africa
United States and Canada
The Analysis fills gaps in previous research that attempted to guide investment in the industry and expands these studies' scope to cover the world. The document replaces less-objective assessments of the potential value to the industry of key B2B markets with detailed annual forecasts of added economic value and employment dynamics, drawing from EIU contacts in government, investment analysts and other authorities worldwide.
Regional editions of the Analysis contain profiles of at least two of the 10 companies EIU included in the full Analysis. Shown below with their headquarters nation, these companies are included in the corresponding regional editions and may be in others:
Aramark Corp., Cintas Corp., UniFirst Corp. (United States)
CWS-boco International (Germany)
Elan Corp. (Japan)
Elis SA (France)
Johnson Services Group, Rentokil/Initial (United Kingdom)
K-Bro Linen Systems (Canada)
Spotless Group (Australia)
Learn more about these reports and order at www.trsa.org/store.