TRSA Launches Hygienically Clean China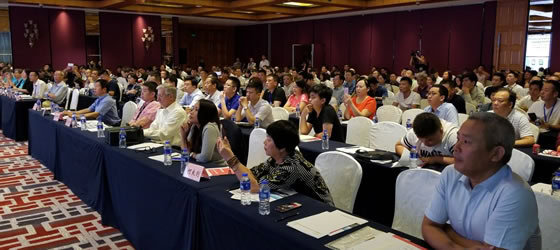 TRSA Chairman David Potack, Unitex; and TRSA's Bill Mann and Joseph Ricci recently attended the China Healthcare Laundry Association Conference in Shanghai to launch the joint development of the Hygienically Clean Healthcare China certification program.
This plan is based on emerging Chinese healthcare laundry guidelines and TRSA's Hygienically Clean Healthcare certification. The latter initiative reflects a laundry's commitment to best-management practices (BMPs), compliance and processing healthcare linens and garments as described in its quality assurance documentation (QA). This dedication is further verified by third-party inspection of critical control points. The laundry's ability to produce hygienically clean textiles also is quantified by ongoing microbial testing.
Chairman Potack discussed the development, implementation and growth of Hygienically Clean Healthcare with nearly 200 Chinese owner/operators attending the China Healthcare Conference that ran from Sept 27-29. He further outlined its rapid acceptance by healthcare organizations and infection-control professionals as reflected in the program's growth with nearly 175 plants that are now certified as Hygienically Clean. Chairman Potack discussed the important role of both laundry and healthcare professionals in the development and governance of the program to ensure the flexibility necessary for laundries to operate efficiently and effectively, while producing hygienically clean linens and garments.
"We are extremely pleased to partner with the China Healthcare Laundry Association to develop Hygienically Clean Healthcare China," said Chairman Potack, "TRSA and the China Healthcare Laundry Association plan to appoint a task force to review and develop a China standard that will ensure that their laundries comply with emerging Chinese guidelines. At the same time, they'll implement proven, measureable processes based on quality assurance (QA) documentation, training and independent inspection and testing protocols that align with TRSA's Hygienically Clean Healthcare."
Hygienically Clean certification recognizes companies' commitment to cleanliness through third-party, quantitative microbiological testing and inspection. Companies are certified Hygienically Clean only after complying with performance specifications established by the standard based on internationally recognized best-management practices and regulations for healthcare as set by the:
American National Standards Institute (ANSI)
Association for the Advancement of Medical Instrumentation (AAMI)
European Standard (EN 14065) Laundry Processed Textiles – Biocontamination Control System
German RAL-GZ 992/2 – Quality Hygiene Certificate for Healthcare linen
United States Centers for Disease Control and Prevention (CDC)
The Joint Commission (TJC) – Commission on Accreditation of Healthcare Organizations
Occupational Safety and Health Administration (OSHA)
In addition, the organizations discussed forging a more cooperative relationship, including TRSA membership and translation of healthcare-related resources, as well as benchmarking. Following these discussions, TRSA representatives attended a dinner with representatives from the Chinese government and healthcare association to formalize the relationship.
The TRSA representatives also toured several laundries processing healthcare and hospitality linens and uniforms, as well as a Chinese equipment manufacturer. "We were impressed with the sophistication of the laundries we visited and the overall growth of the country's linen, uniform and facility services markets," said Ricci, who is TRSA's president and CEO, "While relatively low labor costs have limited the potential return on capital investments in automation, laundries are beginning to integrate new technologies as labor costs increase and the country prepares for a shortage of skilled and semi-skilled labor."
During the China visit, the TRSA officials also met with representatives from the Laundry Association of Australia (LAA) to discuss information-sharing opportunities including safety, benchmarking and digital publications. In addition, TRSA attended Texcare Asia, the region's largest laundry-related trade show, and met with TRSA associate members exhibiting products and services, including Chicago Dryer, Colmac, Ecolab, Girbau, Jensen, Kannegiesser, Lapauw and Pellerin Milnor. Potack, Ricci and Mann also met with several TRSA operators attending Texcare, including key managers from Florida Linen, Alsco and Cintas.