TRSA Launches Lead-Generation Campaign for Members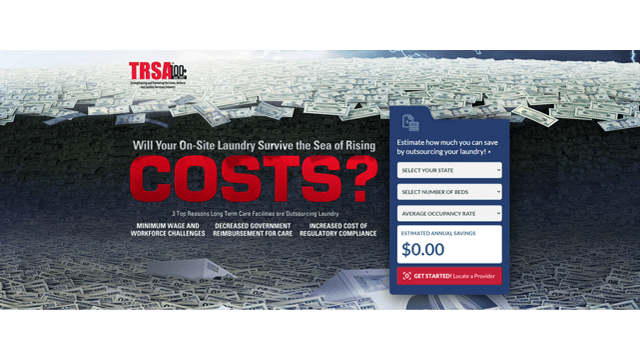 TRSA is launching its third marketing campaign promoting the linen, uniform and facility services industry to long-term care (LTC) facilities nationwide. The goal of this initiative is to promote the benefits of outsourcing laundry services and gather business leads for member operators. The five-month campaign focuses on nursing homes, residential-care communities and other long-term care organizations featuring targeted email outreach, social media advertisements and other web-based promotions.
LTC providers that click on emails or social media to learn more will be sent to a landing page with web resources such as an outsourcing white paper and a cost calculator to assist with cost analyses of on-premises laundries, plus access to a directory of TRSA member operators that includes company contact information such as phone numbers, websites and emails.
Members participating in this initiative will receive access to any leads generated from TRSA's outreach efforts. Depending upon the type of lead, information will include:
1. Individual's contact information
2. Name of facility
3. Type of facility
4. Contact information for facility
5. Lead source
TRSA will distribute the leads monthly to the participating member operators and there is no cost to members for participating in this initiative.
TRSA members interested in obtaining sales leads from the campaign and taking advantage of these collateral materials should contact Susie Jackson at sjackson@trsa.org or 540.632.1933.