TRSA Midwest Reopening Tour: See it LIVE Monday, June 21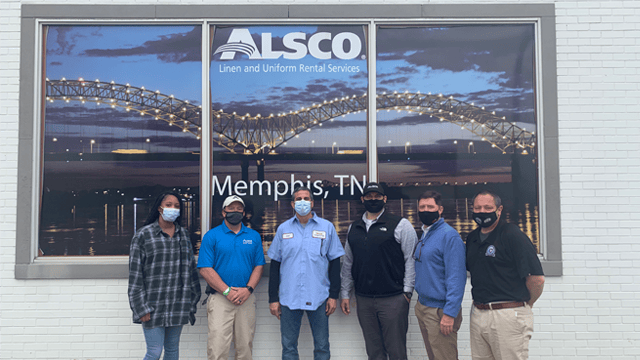 TRSA staff will hit the road once again for the second leg of its Reopening Tour to meet with member operators and supplier partners to the linen, uniform and facility services industry. The first leg of the 3,000-plus mile road trip through eight Midwest states kicks off on June 20. Follow the tour on TRSA's social media (Facebook, Instagram, LinkedIn and Twitter) beginning with a Facebook Live broadcast from Paris Healthcare, Ravenna, OH, at 1 p.m. EDT on Monday, June 21.
View at facebook.com/trsaorg and follow TRSA. Following TRSA's Facebook page will enable you to be notified of future live videos from the tour. Click the down-pointing triangle at the top right of your screen, select Settings and Privacy, Settings, Notifications (at left), Video, then choose to be notified by any combination of push, email or SMS text.
TRSA staff members Joseph Ricci, Tom Newell, Kevin Schwalb and Ken Koepper will kick off the trip when they depart the association's headquarters in Alexandria, VA, for Pittsburgh on June 20. The trip will wrap up in Chicago on July 1.
During the 11-day span, the TRSA team will meet with the following member companies:
CleanCare, Pittsburgh
Paris Healthcare, Ravenna, OH
R.W. Martin, Kent, OH
Rentwear, North Canton, OH
Morgan Services, Cleveland
Miller's Textile Services, Wapakoneta, OH
Economy Linen, Dayton, OH
WSI, Loveland, OH
Cintas Corp., Milford, OH
P&G Professional, Cincinnati
Alsco, Indianapolis
Plymate, Shelbyville, IN
Crown Linen, St. Louis
Clean Uniform, St. Louis
Linen King, Columbia, MO
Midwest Healthcare, Des Moines, IA
CITY Laundering, Oelwein, IA
Textile Care Services, Rochester, MN
Kannegiesser ETECH, Minneapolis
St. Croix Linen, Saint Paul, MN
Huebsch, Eau Claire, WI
Gunderson, Neenah, WI
Ellis Corp., Itasca, IL
Chicago Dryer, Chicago
Roscoe Co., Chicago
Mickey's Linen, Chicago
TRSA kicked off its Reopening Tour 2021 with a road trip to the Southeast in April/May. The Tour included stops at large, national members and regional independent operators, as well as supplier partners, all essential services supporting critical infrastructure from healthcare to food processing, manufacturing, logistics and other services. Highlights of the Tour were distributed on social media including Facebook, Instagram, LinkedIn and Twitter, resulting in more than 15,200 impressions, as well as numerous comments, likes and other recognition across each platform. To read more about that trip, click here.
In addition to the Midwest trip in June, TRSA is planning visits to the Northeast, West and Southwest later in the year.