TRSA Provides Vaccine, Stimulus Updates During Webinar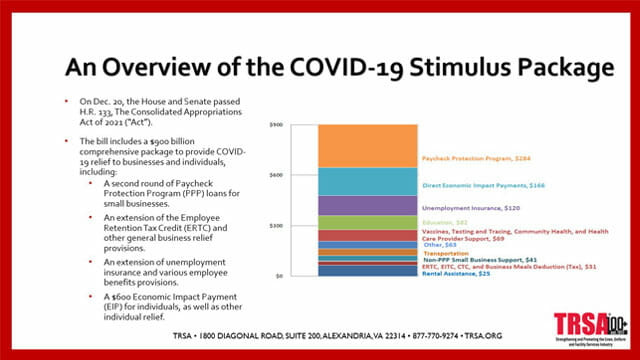 TRSA recently hosted a webinar that updated its members on the association's advocacy efforts to raise the priority level of the linen, uniform and facility services industry to receive COVID vaccines. The hour-long presentation, titled "TRSA's Vaccine Efforts & Industry Update" also provided information on the stimulus package that was signed into law by President Donald J. Trump (R) on Dec. 27, 2020.
The following speakers appeared on the Jan. 12 webinar presentation:
Joseph Ricci, president and CEO, TRSA
Kevin Schwalb, vice president of government relations, TRSA
Harold Hancock, shareholder, Brownstein, Hyatt, Farber and Schreck
Radha Mohan, senior policy advisor and counsel, Brownstein, Hyatt, Farber and Schreck
Russell W. Sullivan, shareholder, Brownstein, Hyatt, Farber and Schreck
Ricci kicked off the webinar with an overview of the latest industry trends, highlighting the Robert W. Baird & Co. and TRSA Fourth-Quarter 2020 Uniform & Linen Rental Survey released in December. To read a recap of the survey results, click here. He also gave an update on the state of TRSA heading into the new year.
Schwalb followed Ricci with information on TRSA's efforts to advocate on behalf of the industry to prioritize the importance of linen, uniform and facility services company employees in receiving COVID-19 vaccines. Schwalb noted that TRSA has contacted the U.S. Centers for Disease Control and Prevention (CDC) Advisory Committee on Immunization Practices (ACIP), the governors of each state as well as their chief of staff, and each state's respective COVID task force. To read more information about TRSA's efforts on behalf of the industry, click here.
After Schwalb's presentation, the trio of Hancock, Mohan and Sullivan provided information on the recently passed stimulus package, including the Second Draw Paycheck Protection Program (PPP) and the CARES Act Employee Retention Tax Credit (ERTC), which have been expanded. Of note, the ERTC was previously unavailable for businesses that received benefits through the PPP loans. This new legislation provides a retroactive amendment and clarifies which business can now apply to receive ERTC funds. To view slides provided by the team at Brownstein, Hyatt, Farber and Schreck, click here.
A robust question-and-answer session concluded the webinar. TRSA has an on-demand learning library that will allow you to "live stream" all of the association's webinars. TRSA members can purchase webinars, and other training and educational resources at a reduced member price. Visit www.trsa.org/ondemand to go to TRSA's On-Demand Learning portal to view this webinar and more.
TRSA's Coronavirus Resource Center can be accessed online at www.trsa.org/covid19. If you have a question about COVID vaccines or the recent stimulus package and how it impacts your business, contact Schwalb at kschwalb@trsa.org.