TRSA Schedules More Local Networking Dinners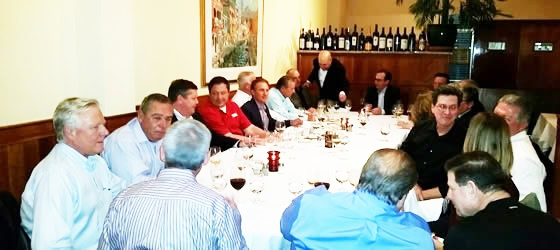 Building on the very positive response from linen, uniform and facility services corporate leaders who participated in TRSA dinners in major U.S. cities this spring, the series will continue this fall with eight such gatherings. These discussions facilitate local networking and provide updates regarding association resources and initiatives.
Open to executives from TRSA member and nonmember companies, these informal settings provide opportunities for industry colleagues to reconnect and discuss issues impacting industry operators' performance, such as government regulation, compliance and training, water and energy concerns and recruitment and retention of skilled labor. TRSA Chairman David Potack (Unitex, Elmsford, NY), CEO Joseph Ricci and Vice President of Government Relations Kevin Schwalb facilitate these discussions.
Participants in the previous dinners included executives from independent and national operators as well as associate member supplier partners. The events, scheduled at Potack's urging, are part of an effort to facilitate interaction among peers regarding issues important to the industry's growth.
"It's important that TRSA create informal settings for the industry to discuss issues impacting them locally, as well as nationally," said Potack, a fourth-generation owner/operator of Unitex. "These smaller meetings help members work more closely together to solve problems."
"It takes a national organization like TRSA to create the right environment for the industry to get together to address common concerns and reconnect," said Richard Marzo, president, Lace House Linen Supply, Petaluma, CA, who attended the San Francisco dinner in May. "I applaud TRSA's effort and look forward to their next local event."
Schwalb added that TRSA has expanded its advocacy efforts beyond federal concerns. "With more regulatory and tax activity at the state and local levels, these types of small, regional local events are becoming increasingly necessary to ensure that we understand the local impact and have the network to coordinate the appropriate responses," he said. TRSA's renewed emphasis on local, regional and state concerns mirrors recent state and local tax, water and compliance issues in states such as California, Illinois, Kentucky, Missouri, North Carolina, Oklahoma and Texas, he said.
A similar event to discuss issues of importance to Canadian operators will take place Aug. 30 in Toronto as part of TRSA's Plant Tours and Roundtable there. Below is a list of the upcoming U.S. dinners:
October 16: Philadelphia
October 18: Boston
October 23: San Diego
October 24: Los Angeles
October 25: San Francisco
October 30: New York
November 27: Chicago
November 28: Milwaukee
For more details, e-mail Ricci or call him at 703.519.0029, ext. 101.