TRSA Summit: Heed CA ZEV Mandate Wherever You Are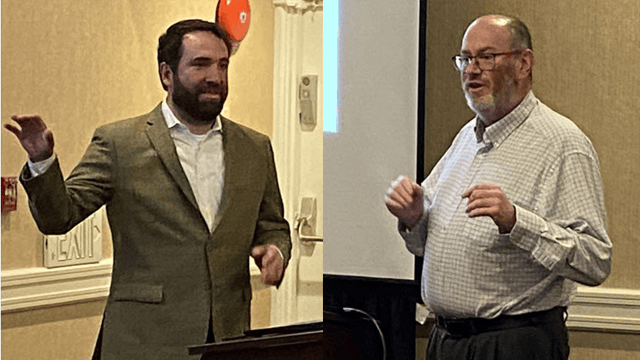 TRSA conducted its first-ever Fleet Summit May 9-10 in Long Beach, CA, alongside the Advanced Clean Transportation (ACT) Expo, where fleet operators from a wide variety of industries reviewed the latest zero emission vehicles (ZEVs) and associated technologies. There's heavy pressure on such operators in California, where mandates go into effect in three years. No matter where you operate, however, this pressure is building, and in the U.S., the federal Clean Air Act (CAA) is bringing the heat.
R.J. Cervantes, TRSA's California legislative consultant, explained to the Summit how this will take hold. "Every state and major population center must submit to the federal government a plan to meet standards for emission reduction," he pointed out. This includes measuring ozone and fine particulate matter to determine where pollutants are most prevalent. The areas affected most are declared air-quality-management districts (AQMDs).
California has had some of the nation's worst pollutant levels, particularly on the South Coast (Los Angeles) and through the San Joaquin Valley (center of the state from Bakersfield to Sacramento). With federal approval, such districts anywhere can implement their own intensified standards. This makes fleet operators in any U.S. AQMD vulnerable to the exact same mandate as any other AQMD.
Legal challenges to such approvals from businesses opposed to these may abound, however. California's South Coast AQMD faces such a hurdle with its Warehouse Actions and Investments to Reduce Emissions (WAIRE) plan, which would apply to linen and uniform services with 100,000-square-foot locations. WAIRE would require fleet operators to complete emissions reduction mitigations and/or invest in cleaner technologies to offset emissions from Class 2b to 8 truck activities.
WAIRE will implement a credit/deficit system based on truck traffic at the facility. The more often a truck picks up or drops off at your location, the more emissions mitigation actions you must take. You'll need to track and report vehicle trip data to calculate your WAIRE points compliance obligation (WPCO). You must earn WAIRE points to offset your WPCO and submit annual compliance reports.
Statewide, 10% of box trucks and vans must be ZEVs by 2025. The requirement goes to 25% by 2028, 50% by 2031, 75% by 2033 and 100% by 2035. Work trucks and day cab tractors have two more years on each of the first two deadlines and three years more on the last two. [A ZEV is a vehicle that produces no emissions from the on-board source of power (e.g., an electric vehicle). Hydrogen-fueled vehicles are electric.]
State funding is available to support California fleet conversion. The Hybrid and Zero Emission Heavy Duty Voucher Incentive Program (HVIP) may distribute $500 million in 2022; vehicle dealers, not fleet operators, submit the vouchers. Fleets may stack 90% of total costs with public funds, excluding taxes and fees, although there's a maximum per applicant of 30 vouchers, and amounts are limited per vehicle type.
Kevin Schwalb, TRSA government relations VP, said New York, New Jersey, Massachusetts, Washington and Oregon are drafting ZEV regulations and three other states are eyeing the California model. He noted the industry's prior experience with electric vehicles has been somewhat problematic, begun when AmeriPride Services several years back had issues keeping them all on the road.
Fleet Summit participants forecast challenges with widespread adoption, including battery reliability, the lack of which could erode the return on investment in ZEVs. The need to recharge grows in colder weather; up to 30% of battery life can be lost. Even in moderate weather, charges on step vans may not fuel travel of more than 200 miles, making ZEVs good only for more urban linen and uniform routes. Other concerns: whether there will be enough maintenance technicians available and which ZEV companies will survive any initial market struggles to remain in business and support customers.
Attendees agreed that labor issues represent today's greatest challenges in linen and uniform fleet operations. The Summit recruited Steve Bojan to present a consultant's view of driver talent across the economy. Prior to 2020, he was with Hub International, a global insurance broker providing property and casualty, life and health, employee benefits, investment and risk-management products and services. Currently, he oversees risk management and accident prevention for UniGroup, North America's largest moving fleet. This includes purchasing insurance products, collaborating on large loss situations and identifying areas for risk mitigation.
"The quality of today's driver is not what it once was," he pointed out. In the past, you might have converted a worker from another function into a driver. Or you found a long-haul driver working in another industry who liked the idea of going home each night. In the latter case, "over-the-road drivers are not able to do what you want them to do. You're asking them to be customer service providers and you can't get that in an over-the-road driver. You look at some of them today and you wouldn't want to bring them into your house."
To attract and retain the best candidates, sell your organization's emphasis on wellness, Bojan advised, and make a concerted effort to improve their health. Step vans present some inherent risk. Stepping down is often jumping, not stepping – "the amount of pressure is horrible on the knees." Some advancements have been made in ergonomics: drivers are lifting and hand-carrying less and making better use of material-handling devices (such as lift gates). But you need to train them to avoid shortcuts.
While the benefits of using technology to track driver behavior are becoming more popular, the human touch seems to be lacking more. Speaking personally to drivers every day makes the job more appealing. "Everything they do is on a tablet or smartphone. So they can just punch in, get to the truck and go," he noted. This can deter coaching them, learning about their families and generally getting to know them as people.
"The worst thing that came out of the creation of telematics was the way it replaced conversation," Bojan observed. And texting is not a form of engagement. "The best supervisors are out there in the morning as their people leave," asking daily about their experiences on the road and examining the condition of their trucks for possible immediate fixes. This prevents "a straw from breaking a camel's back." Interpersonal communication makes drivers feel like part of a team. It builds understanding of their daily challenges. "We've gotten too far away from that."
See these TRSA social media posts from the ACT Expo:
Video (on TRSA's Facebook and LinkedIn company pages):
Cintas Corp.'s electric truck on display in the exhibit hall
Morgan Olson's commitment to linen, uniform and facility services
How show management conducted Ride-and-Drive sessions
Photos (on pages above and also TRSA's Instagram and Twitter):
Clean Uniform Co.'s foresight on electric vehicles
American Textile Maintenance poses with autonomous truck