TRSA Summit Plots Safety Resource Development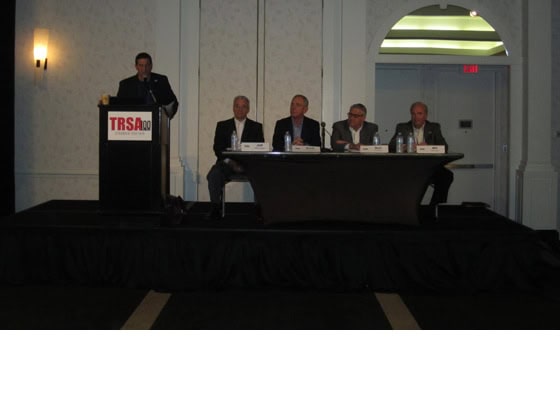 PRESS RELEASE
Textile Services Industry Commits to Development of Resources to Enhance Safety Cultures at TRSA Summit -5/24/12
Safety and textile services industry leaders addressed nearly 100 representatives from a majority of the nation's commercial textile services facilities on May 22 in Minneapolis regarding the importance of continuous safety improvement "in our plants and on our roads." Attendees participated in general sessions and facilitated workshops to share best practices and develop specific projects and initiatives for improving workplace safety.
"The objectives of this first TRSA Safety Summit were to increase safety awareness and generate initiatives for continuous safety improvements," said TRSA President & CEO Joseph Ricci. "We must continue to move the industry from compliance and benchmarking against ourselves to a culture of safety measured against the best companies."
More than 30 textile services companies – national and regional chains as well as independent local operators – participated in the "Safer Together" Summit, with more than half of participating companies sending multiple representatives. "The Summit attracted many individuals and new participants from deeper within member companies' management ranks to obtain new resources for tackling safety challenges," stated Ricci. On a scale of 1 to 5, 91% of attendees rated the program a 4 or 5.
"I'm inspired to be here; I'm inspired to talk to people. Hopefully, when we leave here, we reach out to each other," stated Michael Anderson, assistant GM, Paris Healthcare Linen Services, DuBois, PA. "Whether we're in similar markets or not, when it comes to safety, we all should be involved in making it better for our plants."
The Safety Summit was kicked off by Rick Pollock, the incoming president of the American Society for Safety Engineers (ASSE), who provided a framework for establishing a safety culture. He was followed by facilitated break-out sessions of 12 to 15 participants focused on sharing best management practices and developing "next steps" for TRSA's pursuit of continuous safety improvement including sessions on ergonomics, injury prevention, fleet safety and management support.
The highlight of the Summit was a panel of the industry's highest-ranking executives discussing their company's safety challenges and their integration of safety into daily operations. The panel included:
Bill Evans, president & CEO, AmeriPride Services Inc., Minnetonka, MN
Scott Farmer, CEO, Cintas Corp., Mason, OH
Karl Fillip, president & CEO, Alliance Laundry & Textile Services, Austell, GA
Jeff Wright, executive vice president & CFO, G&K Services Inc., Minnetonka, MN

The panel, taking a page from Pollock's comments on leadership in building corporate safety cultures, called for shifting industrywide improvement efforts from an OSHA-compliance-focused agenda to a risk-based, zero-tolerance approach. While TRSA's annual Safety Survey has demonstrated significant improvement during the past few years as acknowledged by OSHA enforcement chief Richard Fairfax in his presentation at the TRSA Leadership & Legislative Conference in March, there is still tremendous room for improvement.
"When measuring against ourselves, the textile services industry has made impressive gains in the reduction of illness and injury," stated Cintas CEO Scott D. Farmer. "For continuous improvement, we must begin measuring ourselves against the safest companies regardless of their industry."
As a result of the Safety Summit break outs, TRSA will focus its efforts on assisting members to develop a safety culture by increasing its commitment to developing and disseminating safety training and awareness resources, as well as establishing a safety advocate for the industry to guide the association's, industry's and member's safety initiatives.