TRSA Tackles Industry Issues at CA Town Hall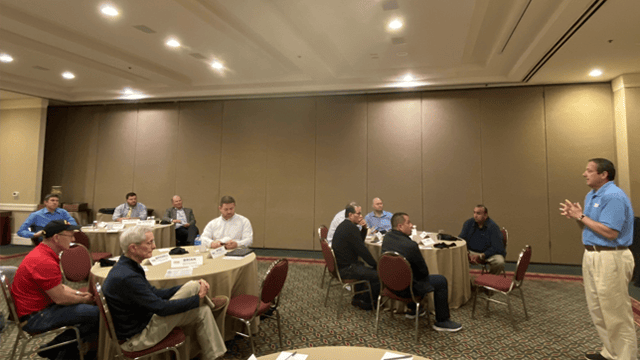 While California's impending electric vehicle mandates accounted for much discussion at the TRSA Fleet Summit, May 9-10, Long Beach, CA, participants in that event also were part of the TRSA Town Hall there. This afternoon meeting consisted of a review of the industry's current legislative and regulatory priorities as well as a discussion of how TRSA can plan future industrywide networking and information-sharing opportunities.
Kevin Schwalb, TRSA government relations VP, described the Washington legislative scene as dominated by support for Ukraine and emerging agendas related to upcoming mid-term agendas. But several must-pass measures will be vetted before Congress adjourns for the year, with the appropriations process among them. Schwalb described the process as an opportunity for linen and uniform services to "play offense" on its advocacy for prompting the government to guide healthcare facilities to use more reusable textiles and require medical personnel to change uniforms at work.
"We play so much defense—we fight bills on Capitol Hill. We don't get a lot of opportunities to play offense," he pointed out. The industry proved it was essential as COVID-19 unfolded. It's always been justifiable, but now more visible, to contend that medical facilities should:
Maintain a minimum threshold of reusable personal protective equipment (PPE)
Provide employees with clean scrubs or other uniforms when they check in for a shift and leave in their street clothes
TRSA is concerned that the industry has been identified in OSHA's development of a heat illness standard. The agency issued an advance notice of proposed rulemaking for such a standard earlier this year and recently initiated a National Emphasis Program relying on its general duty clause. As the agency moves forward, it must recognize our industry's proactive measures to reduce such illness, Schwalb said. TRSA will be involved in the rule's review under the Small Business Regulatory Flexibility Act, highlighting the need for individual industries' practices to be weighed, as opposed to regulating them all the same way.
OSHA's COVID-19 private-sector vaccination mandate has been withdrawn, but isn't dead, he noted. The agency appears willing to start over with an advance notice for a rule that would apply to pandemics in general, not just COVID. But some agency personnel believe this isn't necessary. They say because the mandate was already a standard (although emergency/temporary), it can move ahead to the final proposal stage, when public comment can continue. Business advocates disagree and might thwart such an approach in court.
Wastewater issues were on the Town Hall agenda as well. Chief among these: discharges from laundry wastewater of per- and poly-fluoroalkyl substances (PFAS), the broad class of 4,500 manufactured chemicals used to make cookware coating, carpets, clothing, paper packaging for food and fire retardants. Laundries are considered a Top 5 industrial wastewater source of PFAS and drain samples from all soil classifications or textile/garment types have contained PFAS. TRSA notes that consumer sources of PFAS are far more significant.
In California, TRSA has been involved in thwarting legislation requiring all washers (home and commercial) to contain microfiltration devices. While it's been shown that microplastics are shed initially from the initial wash after manufacturing, there's no hard evidence of such shedding in commercial laundry. TRSA has called for amending the bill to study this. In the meantime, the bill has been withdrawn repeatedly and it's not expected to surface again.
Other state issues on TRSA's advocacy radar:
New York – On split shifts, the need to pay workers for the hours in between, a rule governing hospitality employers that regulators are interpreting as applicable to our industry.
Texas – Modifying franchise tax regulation to reduce our industry's liability there, which needs to be done every other year.
Wisconsin – Classifying the industry as a manufacturer for more favorable tax treatment.
Concluding the Town Hall was a discussion of how TRSA information-sharing and networking on fleet management issues might be perpetuated following the Summit. It was noted that most Fleet Summit and Town Hall attendees were not transportation, fleet, or service managers. Most were executives or owners whose responsibilities affect management of multiple or all corporate functions, rather than a single specific function.
Attendees indicated this reflected the need for more extensive TRSA programming to guide management of the industry's service functions, including fleet operations. Co-location with the Advanced Clean Transportation (ACT) Expo attracted their participation in the Fleet Summit, they said, and they would be intrigued to participate in subsequent activities that would guide them in various facets of improving performance on the road.