TRSA Taps Three for Meetings, Database and Design Work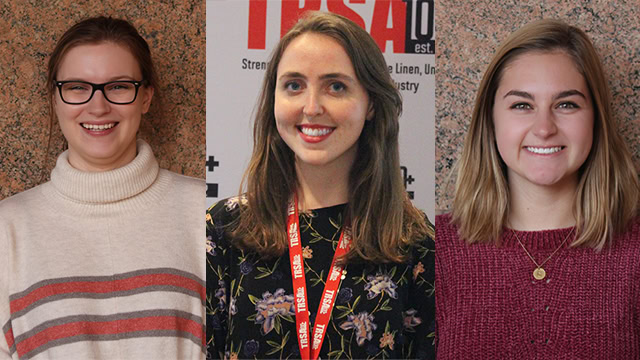 As part of its ongoing efforts to improve service and program management for members, TRSA recently named three entry-level managers to roles involved in conference planning, database maintenance and graphic design/communications projects. All three new hires served as TRSA interns before joining the association full-time.
"With 15 new members this year alone, TRSA's membership is growing and their need for programming, services and communications have expanded substantially," said TRSA President and CEO Joseph Ricci. "Consequently, TRSA has named three recent college graduates to help us manage our growing portfolio of programs." These new staff members include:
Lydia Barr, a May graduate of The College of Wooster, Wooster, OH, with a BA in English, recently was named professional development coordinator. Barr now assists staff with planning and organizing meetings and preparing educational content for members. She says she appreciates the opportunity to contribute to TRSA programs. "I am excited that my position at TRSA allows me to become involved in both events and education, where I have the opportunity to interact with members," Barr said. "I hope to learn more about the industry so that I can help improve our educational platform and play a role in planning successful events."
Meredyth Ellington, a May 2017 graduate of Virginia Tech, Blacksburg, VA, with a BS in meteorology and a BA in Geography, was hired as a database/office manager. She works on a wide range of database projects, including an ongoing effort to implement a new Association Management System database program. She also handles routine updates and the streamlining of association records. Ellington responds to member inquiries as well and oversees the ordering of office supplies. Ellington says she's applying what's she's learning about the industry to her efforts to upgrade the association's recordkeeping system. "When I came in a year ago I was completely unaware of TRSA, this industry, and how deeply involved it is around the country," she said. "But my position allows me to communicate directly with members. Everyone has taught me more about this industry through their knowledge and experience, which I've been able to use to improve our records and our new database program."
Emily Siegfried, a May graduate of the University of Mary Washington, Fredericksburg, VA, has a BA degree in studio art with a minor in digital studies. She recently joined the staff as a graphic design & digital media specialist. Siegfried works on a wide range of graphic-design projects, including promotional videos, brochures and electronic newsletters, including TRSA's Textile Services Weekly. She says she's surprised by the number of ways linen, uniform and facility services companies impact the public. "Working at TRSA has offered me a glimpse into an industry that has such a prominent role in our everyday lives, yet few realize the importance it holds," Siegfried said. "Every day, I am learning new information about the extent of the textile rental industry and taking notice of all the now-familiar companies that have linens at my gym, my doctor's office and my favorite restaurants."
All three women are Washington, DC-area natives.