TRSA Testifies for Bill to Even Playing Field for Uniform Rental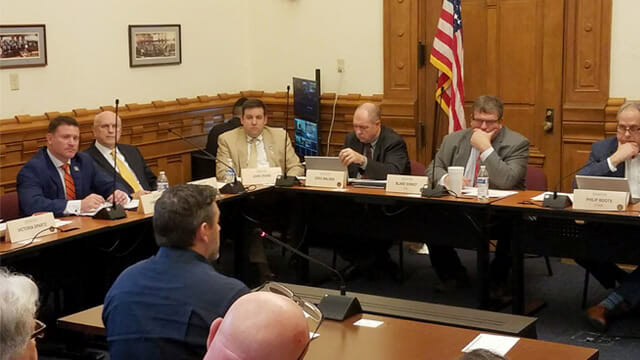 Josh Wildman, CEO of Wildman Business Group, recently testified before the Indiana State Senate Committee on Pensions and Labor. He spoke in favor of SB 99, legislation that would update the Wage Assessment Act of 2015 to allow employers to deduct the cost of uniform rental directly from a worker's paycheck, with the worker's approval. Also attending in support of this legislation was Tim Uhlmansiek from Plymate Inc., Shelbyville, IN. Wildman Business Group is based in Warsaw, IN.
The Indiana Wage Assignment Act of 2015 lays out what items are allowable for deducting wages from a worker's paycheck. One of the items laid out in the legislation is the purchase of uniforms. However rental uniforms were not included in the statute. But while the actual language specifically mentions only the purchasing of uniforms, The Indiana Department of Labor Wage and Hour Division has interpreted the law to allow for both the purchase and rental of uniforms. This confusion has led to the filing of lawsuits against employers and laundry providers for inappropriately deducting employee wages.
TRSA is working to reform the law by allowing for the inclusion of rental uniforms as well as purchased garments to qualify for worker paycheck deductions. The author of SB 99 is state Sen. Phil Boots (R), the chairman of the Pensions and Labor Committee.
During the hearing at the Indiana General Assembly in Indianapolis, state Sen. David Niezgodski (D) introduced an amendment that would allow for the deduction of rental of uniforms only if they did NOT contain a company logo, which is a significant majority of uniform rental programs. TRSA was able to negotiate that language out of the bill, while keeping the legislative process on track.
The bill is expected to be voted on favorably out of the committee soon. For information on this legislation, contact TRSA Vice President of Government Relations Kevin Schwalb at kschwalb@trsa.org.