TRSA Tour 2021: Staff Visits Members as Economy Reopens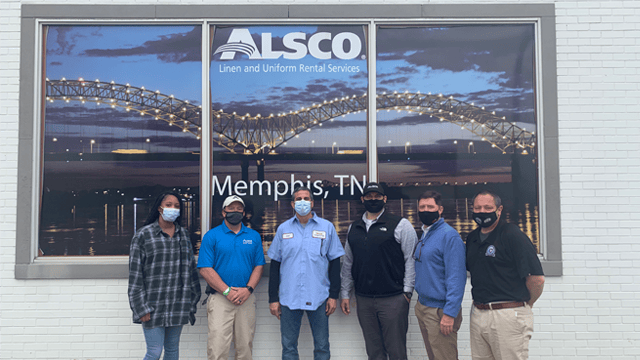 TRSA finished the first leg of its Reopening Tour 2021 through the Southeastern United States to highlight the reopening of the economy and its impact on the linen, uniform and facility services industry. Traveling from the TRSA headquarters in Alexandria, VA, through Charlotte, NC; Birmingham, AL; and Memphis, Nashville, and Knoxville, TN, over the course of 10 days, the Tour traveled nearly 2,600 miles, across seven states and 22 operator and supplier-partner facilities. TRSA representatives on the Tour included Joseph Ricci, president & CEO; Tom Newell, vice president of operations; Kevin Schwalb, vice president of government relations; and intern Ryan Kiernan.
"It was great to be back in plants and meeting with members again," Ricci said. "Business is coming back and we highlighted the reopening throughout the Tour. Every member was excited about the economy bouncing back but concerned about worker shortages and supply-chain issues not only for themselves but also for their customers, and the negative impact it may have on the recovery."
The Tour included stops at large, national members and regional independent operators, as well as supplier partners, all essential services supporting critical infrastructure from healthcare to food processing, manufacturing, logistics and other services. Highlights of the Tour were distributed on social media including Facebook, Instagram, LinkedIn and Twitter, resulting in more than 15,200 impressions, as well as numerous comments, likes and other recognition across each platform.
The Tour also provided opportunities to see members' products and services impacting the safety, hygiene, sustainability and comfort of guests, visitors and employees at national landmarks such as Talladega Superspeedway, Country Music Hall of Fame, Graceland (Elvis Presley's home) and the Lorraine Motel (location of Martin Luther King Jr's assassination and Civil Rights Museum), as well as restaurants, hotels and other locations. Throughout the Tour, TRSA tried to capture products and services "in action," whether table linens and garments in restaurants to bed linens in hotels and hand-sanitizing dispensers. Member products and services, as well as delivery trucks and logos, were visible everywhere.
Over the course of the trip, it was evident that the industry is coming back stronger based on efforts to diversify markets and introduce new services, nearing pre-pandemic volumes. While healthcare remains steady at about 90% of pre-pandemic volumes including a surge in reusable personal protective equipment (PPE), other sectors such as restaurants, hotels and other hospitality is only recently starting to rebound, primarily with weekend tourism. As restrictions continue to ease and people increase elective surgeries, doctor visits, dining out and traveling, especially business travel, the linen, uniform and facility services industry will continue to recover.
While recovery was apparent, there is widespread concern about labor shortages, supply chain and logistics, particularly for products manufactured overseas, including steel. These labor shortages are impacting production requiring overtime and additional shifts to push products through the plant. They are also limiting reopening. For example, Nashville was sold out during TRSA's visit to the city, with thousands of hotels rooms and restaurants packed but services were limited more by the inability to hire personnel than by COVID restrictions. A linen provider to properties mentioned that the only reason the hotels could run at capacity was that they don'tt change linens during the duration of the guests stay and they are empty by Monday and don't get all the rooms turned and linen to the laundry until Wednesday. Competition, access to daycare, fear and other factors are impacting these shortages but most pointed to the increased unemployment benefits that are paying nearly $15 an hour for people to not work. The hope is that labor returns when the subsidies end in September.
Overall, the initial leg of the TRSA Reopening Tour 2021 was a huge success, full of positive interactions with members. Every location visited was full of hard working and genuinely nice people that were happy to see us and proud to show us their facility. TRSA is excited to continue the Reopening Tour 2021 with visits to the Midwest in June followed by the Northeast, West and Southwest later in the year.
We would like to recognize and thank the following companies (in order of tour stop) for facilitating the Tour:
HandCraft Services Inc., Richmond, VA
Prudential Overall Supply, Colonial Heights, VA
Halifax Linen Service Inc., Roanoke Rapids, NC
Leonard Automatics Inc., Denver, NC
Crown Health Care Laundry Services LLC, Spartanburg, SC
Tingue, Peachtree City, GA
M+A Matting, LaGrange, GA
NuMat Systems LLC, Roanoke, AL
M&B Hangers, Leeds, AL
Landau Uniforms, Olive Branch, MS
UniFirst Corp., Memphis, TN
Alsco Inc., Memphis, TN
VF Imagewear Inc., Nashville, TN
Allegiant Linen Services, Madison, TN
NOVO Health Services, Chattanooga, TN
Linen King, Ooltewah, TN
UniFirst Corp., Knoxville, TN
Alsco Inc., Knoxville, TN
Alsco Inc., Roanoke, VA