Town Hall Talks: Labor, Supply-Chain Shortages & Inflation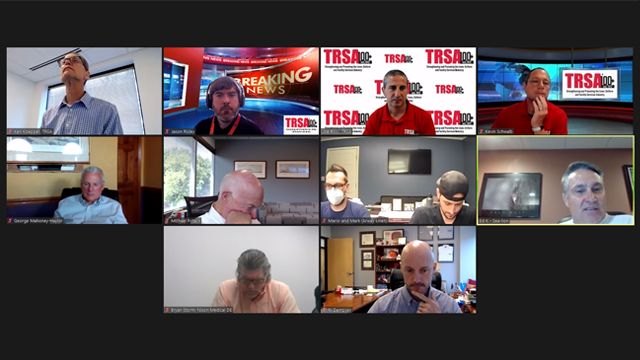 TRSA recently held a series of six Regional Town Hall meetings that drew laundry operators and supplier partners from across North America, including a session dedicated to Canadian operators. These virtual gatherings focused on a range of issues such as recruitment/retention challenges, as well as policy developments in areas ranging from a new indoor heat standard to the growing prominence of Environmental, Social and Governance (ESG) programs used by businesses worldwide.
In addition to a session dedicated to the U.S.'s northern neighbor, the Town Halls drew operator and supplier partner members from the Southwest, Southeast, Northeast/Mid-Atlantic, West/Northwest and Midwest regions for lively discussions of business challenges and TRSA initiatives – including updates on regulatory/legislative advocacy efforts.
On the latter topic, TRSA's Vice President of Government Relations Kevin Schwalb alerted operators to a recently issued National Emphasis Program (NEP) from the Occupational Safety and Health Administration (OSHA) that targets linen, uniform and facility services operators for potential violations related to excessive heat in their facilities (Click here for details).
The NEP gives OSHA the right to enter any commercial launderer at any time to inspect for potentially harmful heat conditions. All the regulators need to order an inspection is for the National Weather Service to issue a heat index (i.e., the combination of heat and humidity) at 80°F or higher. To protect employees on these days, OSHA is requiring that companies prepare documented policies and procedures, such as expanded access to water/ice, plus regular breaks or other measures aimed at preventing heat-related illnesses among employees who work in indoor environments. "Companies will need to ensure that they have current heat-safety and illness-prevention policies," Schwalb said during the online regional sessions. "Should OSHA stop by, they will want to know what the employer is doing to be proactive about indoor and outdoor heat safety."
TRSA President and CEO Joseph Ricci touched on ESG as another hot-button policy issue likely to impact linen, uniform and facility services. This program, inspired by investors, is prominent among publicly held companies. They use ESG to track their environmental, social, and corporate governance activities with a focus on the extent to which they're advancing conservation and social goals. TRSA is working closely with the European Textile Services Association (ETSA) and its national association partners to review existing industry-related ESG reports in order to identify metrics and formulas for discussion, Ricci said. TRSA is developing an ESG Task Force and an ESG Resource Center that will include posts of the public companies' ESG reports as part of a broader information-sharing effort. "We want to be a resource for our members and the industry," Ricci says. Click here to learn more.
As for comments from members, discussions centered on labor and material shortages, including high employee turnover and supply-chain bottlenecks for linens, garments, machinery parts and more. In addition, the costs for both labor and goods are rising rapidly for operators, their customers and suppliers. Higher wages are helping companies get and retain staff, while inflated commodity prices – especially fuel for fleet vehicles – are rising at 15% annually, or more. This includes petroleum-based nitrile rubber used as a foundation material for floor mats. Operators and supplier partners consistently said that they are limited in their ability to pass these costs on to customers, either due to contractual obligations and/or competitive pressures. Several said they're working to control costs by improving efficiencies.
On the upside, most operators said their businesses have largely bounced back from the pandemic to levels of 2019 or higher. Restaurants are busy again, although tablecloth use continues to lag, and the recovery of banquet and event business is mixed. Industrial operators generally have fully recovered and are achieving steady growth. Healthcare operators reported that staff shortages at hospitals have led to fewer bed changes and less linen use. Most are still off by 10%-15% from pre-COVID volumes. In Canada, a backlog of surgical procedures is expected to keep outsource laundries there busy for many months. Another plus for Canadian healthcare operators is the fact that pressure from Canada's nationalized health system has boosted the use of reusable isolation gowns and similar PPE, as opposed to disposables. Most U.S. healthcare operators have said their hospital and clinic clients have reverted to disposable gowns since the supply crunch for disposables abated last year.
Another bright spot is the outsourcing of long-term care facilities. TRSA is currently implementing its third long-term care (LTC) outreach campaign targeting outsourcing laundry from on-premises laundries (OPLs) based on labor shortages and cost, as well as improved hygiene. due to inflation and labor shortages.TRSA
The meetings produced several suggestions aimed at addressing the labor shortages that are rife across North America. Examples include:
Retention/referral incentives: Provide employees with access to a website where they can order various gifts, rather than just doling out gift cards. Click here for details. It adds a sense of fun.
Consider hiring temporary labor from abroad using the U.S. government's H2B visa program. Click here for details.
Creative Networking: One operator said she had her nails done at a Vietnamese-owned salon. On a lark, she asked a beautician there if she knew anyone who might like to work in a commercial laundry. A note was posted on a job board serving that community. The tie-in netted the operator three new employees.
For more information on TRSA regional town halls, contact Ricci at jricci@trsa.org. Readers with questions about OSHA's Heat Injury and Illness NEP or other regulatory/legislative issues, including ESG, should contact Ricci or Schwalb at kschwalb@trsa.org.