TRSA Unveils 2019 Professional Development Calendar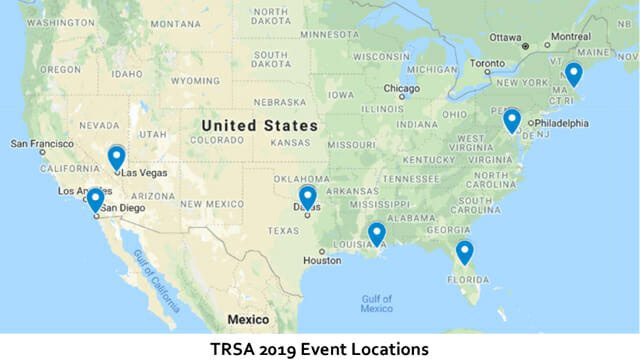 TRSA recently published a calendar listing association-sponsored professional development programs for 2019. Events are now open for registration at www.trsa.org/events.
Carefully crafted to appeal to senior executives as well as a broad range of plant management, including general, maintenance, production, human resources, safety, marketing and sales, the professional development events highlight TRSA's commitment to strengthen, grow and promote the linen, uniform and facility services industry through the people who power it. Currently, 12 events are confirmed to occur across the U.S. They will provide opportunities for professional enrichment, while minimizing travel-related downtime.
The first event of 2019 is also its newest: TRSA had added its inaugural Hospitality Conference in response to requests for educational resources to help operators focused on this rapidly growing market. Ten other events include three additional conferences, four summits and three educational institutes. These will follow the agenda layout seen in prior years. However, TRSA continually updates and revises content. Post-event evaluations, TRSA committees and task forces inform this process and drive subject matter to ensure that each event provides attendees with opportunities to build skills, learn best practices from industry leaders and spend time in collaboration and information-sharing.
The Ninth Annual Legislative Conference (March, Washington, DC [dates appear below]) will help constituents find their voices to advocate for the industry when participants visit Capitol Hill for structured, scheduled meetings with lawmakers and staff members in their congressional offices.
Summits typically are structured to focus on management of a single aspect of industry operations. Returning in its twice-yearly format is the Production Summit & Plant Tours, where attendees discuss and view process improvements to build personal skills and increase laundry throughput and productivity. Typical attendees of this event, set for April in Dallas, and October in Las Vegas, are production executives/managers and company owner/operators.
The back -to-back pairing of the Third Annual Workforce Management Summit and the Eighth Annual Safety Summit (covering human resources, health and safety) will occur in Dallas in April.
June 2019 is the biennial Clean Show in New Orleans, and TRSA will continue its practice of providing high-value networking and professional development events with the TRSA Clean Show Experience.  A single advance registration will provide for attendance with 400+ of your colleagues at the welcome reception, breakfasts, lunches, and a variety of educational sessions and exhibit floor presentations. Traditionally the professional development sessions occur prior to the opening of the exhibit-floor in the morning, with some presentations set for the afternoons, minimizing time away from the exhibit floor.
Institute programs occur in the last half of the year; in August at the University of Maryland (Hyattsville, MD) with the 55th Annual Executive Management Institute (EMI) and the 30th Annual Production Management Institute (PMI). Then in October, attendees will gather in Las Vegas for the 27th Annual Maintenance Management Institute (MMI), which will dovetail with the Production Summit & Plant Tours program. Appropriate for new and experienced managers, TRSA Institutes provide training in management principles and technical practices from the industry and businesses at large.
TRSA's Eighth Annual Healthcare Conference & Exchange (November, San Diego) is the premier and largest event for companies that supply, launder and maintain linens, scrubs, garments and other reusable textiles for the healthcare sector. At this event, participants will improve their grasp of practical techniques and operations/financial trends through information-sharing and networking with TRSA members, who process more than 90% of North American acute, long-term care and specialty medical linens and garments.
"Enhancing the skills of our team members is vital to our success as an industry and TRSA's 2019 professional development opportunities show commitment to industry professionalism and best-management practices. In a highly competitive employment market, developing the industry skills and knowledge needed for success is key to recognizing, rewarding and retaining workers who will be the industry leaders of tomorrow," said TRSA Chairman Jim Buik, president and owner of the Roscoe Co., Chicago.
In addition to the live events listed below, TRSA offers monthly webinars (free to members) and will continue to build its On-Demand Learning library with e-learning courses, training videos and certificate programs. Visit http://www.trsa.org/events/calendar for upcoming webinars or www.trsa.org/ondemand for on-demand training.
TRSA 2019 PROFESSIONAL DEVELOPMENT CALENDAR
February 20-21: TRSA 1st Annual Hospitality Conference
Disney's Coronado Springs Resort, Lake Buena Vista, FL
March 20-21: TRSA 9th Annual Legislative Conference
Hilton Washington DC National Mall, Washington, DC
April 9: TRSA 3rd Annual Workforce Management Summit
Embassy Suites Dallas Park Central, Dallas
April 10: TSRA 8th Annual Safety Summit
Embassy Suites Dallas Park Central, Dallas
April 11-12: TRSA Production Summit & Plant Tours
Embassy Suites Dallas Park Central, Dallas
June 19: TRSA Young Leaders @ The Clean Show
TBD, New Orleans
June 19-23: TRSA Clean Show Experience
TBD, New Orleans
August 11-16: TRSA 55th Annual Executive Management Institute (EMI)
University of Maryland, Hyattsville, MD
August 11-16: TRSA 30th Annual Production Management Institute (PMI)
University of Maryland, Hyattsville, MD
September 17-19: TRSA 106th Annual Conference
Hyatt Regency Boston Harbor, Boston
October 22-23: TRSA Production Summit & Plant Tours
The Palms Hotel, Las Vegas
October 23-25: TRSA  27th Annual Maintenance Management Institute (MMI)
The Palms Hotel, Las Vegas
November 19-21: TRSA 8th Annual Healthcare Conference & Exchange
Hyatt Regency Mission Bay, San Diego, CA
Event sponsorships are available and can be reviewed at www.trsa.org/advertising.