TRSA Unveils Consumer, B2B Market Research Report at Show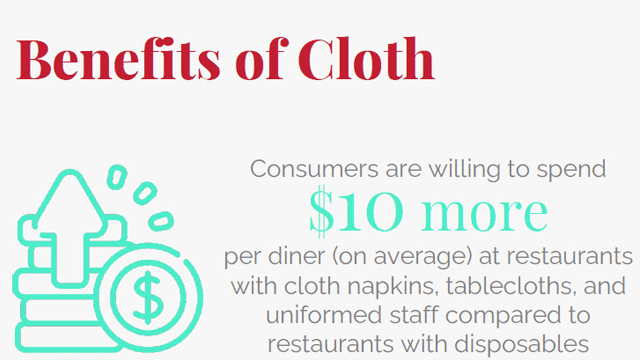 TRSA announced at the Clean Show it will offer to the public the TRSA Market Recovery & Research Report. The research, collected in the fall of 2021, utilized focus groups and an online survey to collect data from 1,000 consumers across the United States with recent experience with hotel, restaurant and healthcare businesses and industrial uniforms. The business-to-business (B2B) quantitative online survey reached 200 decision makers in these four key target groups.
"The goal of the research was to explore and understand the value that professionally cleaned linens and uniforms add to industries," stated Joseph Ricci, TRSA, CEO and president. "Understanding the context of what decision-makers are facing helps frame the added value that textile services can provide relative to what businesses need most: ways to reduce costs, enhance cleanliness, simplify operations, and improve the customer experience."
Consumer research discloses what end users of textiles and linens feel is essential to their experience. What do they value and what are their preferences when it comes to cloth vs. disposables? What do they expect in terms of cleanliness and sanitation from food and beverage, hospitality or healthcare establishments? Demographic and psychographic data is included as well.
The comprehensive B2B research dives into what matters to each target industry. What are the perceptions of professional laundered and supplier linens and uniforms? What are the barriers to adopting the service for businesses? What industry targets are most likely to convert to professional laundering.
The 100-plus page research report will be available for TRSA members for $495 and $1995 for non-members. Clean Show attendees can stop by the TRSA booth #828 at Clean Show to see a sample of the report and get additional information. To pre-order the report, please email Susie Jackson.