TRSA Webinar Focuses on Building Customer Relationships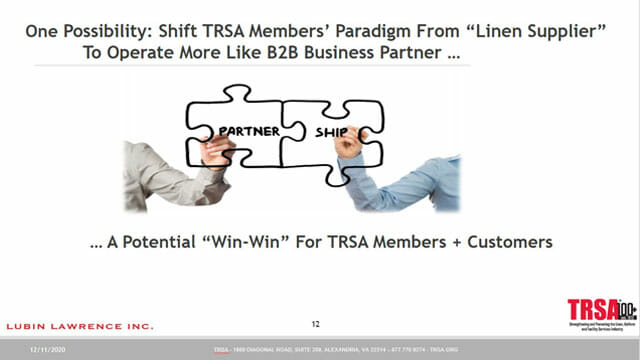 TRSA recently held a webinar titled, "Applying Experience Driven Design® to Drive Revenue and Profit Growth." The hour-long webinar was hosted by Barbara Lawrence, co-founder and managing partner of Lubin Lawrence Inc., a growth strategy consultancy based in New York.
Experience Driven Design® is a method that focuses on desired outcomes, such as creating breakthrough business-building opportunities, redefining and re-energizing categories, and reframing and focusing on services and new products. The method works because it is future focused, frames and focuses new ideas, and is visually driven, Lawrence said.
Lawrence offered advice to TRSA members on how to rebuild customer demand and drive revenue growth, despite the challenges created by the COVID-19 pandemic. She suggested assuming a partner mindset, which could make linen, uniform and facility services providers more valuable to their clients. Also, a more customer-focused collaboration could help build business and perhaps drive return on investment (ROI).
TRSA has an on-demand learning library that will allow you to "live stream" all of the association's webinars. TRSA members can purchase webinars, and other training and educational resources at a reduced member price. Visit www.trsa.org/ondemand to go to TRSA's On-Demand Learning portal to view this webinar and more.