TRSA Webinar Offers Preventive-Maintenance Tips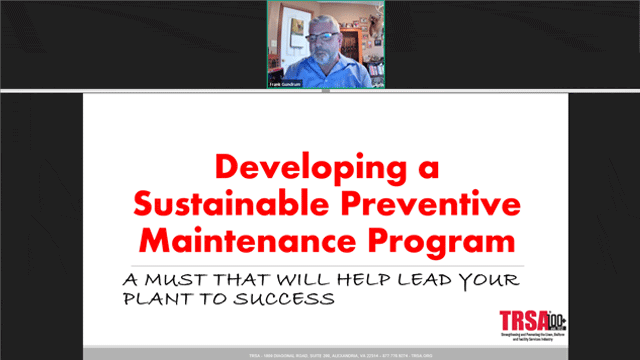 TRSA recently held a webinar titled "Developing a Sustainable Preventive Maintenance Program." Linen, uniform and facility services industry veteran Frank Gundrum of Gundrum Consulting LLC, Franklin, IN, hosted the hour-long presentation.
Preventive and predictive maintenance are important elements in keeping your machinery running at peak efficiency. Preventive maintenance is to service and maintain the equipment and facilities by keeping all units in satisfactory operating condition by inspection, detection and correction before failures occur or problems develop. Predictive maintenance are techniques used to help determine the condition of in-service equipment so you may predict when maintenance should be performed.
Highly effective preventive maintenance programs lead to minimal unplanned downtime, fewer machine breakdowns that interrupt production, lower spare parts costs, optimal overall equipment effectiveness and longer machine life spans.
After implementing a safety plan, the next step is getting your program started. The key to getting a productive preventive maintenance program up and running is understanding what you want to accomplish, knowing your expenses and committing the necessary time to develop your program. To simplify processes, a CMMS (computerized maintenance management system) can offer auto scheduling, email notifications, parts management, work order filters and more, to keep things moving efficiently.
TRSA has an on-demand learning library that will allow you to "live stream" all of the association's webinars. TRSA members can purchase webinars, and other training and educational resources at a reduced member price. Visit www.trsa.org/ondemand to go to TRSA's On-Demand Learning portal to view this webinar and more.