TRSA Weekly Update – Focus on Resources, Reopening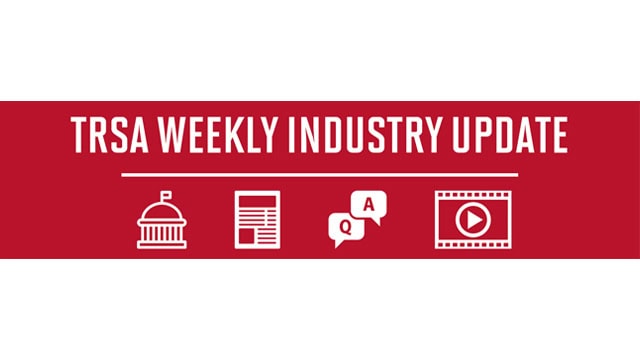 TRSA recently aired its second in a series of COVID-19 Weekly Industry Update webinars, with a broad-based focus on industry efforts to reopen plants and revive businesses with an emphasis on resources available to help ensure a smooth transition back to growth.
TRSA Vice President of Government Relations Kevin Schwalb kicked off the 30-minute program on April 23 with updates, including a discussion of a new $300 billion tranche of funding for the Paycheck Protection Act (PPP), a popular loan program for small businesses that recently ran out of money. The U.S. House of Representatives later that day approved a $484 billion measure that also includes added funding for hospitals and COVID-19 testing programs. President Donald Trump is expected to sign the bill, possibly as early as Friday, April 24. Click here for details.
Schwalb said the best way for companies to access the loan money, which can convert to grants if the loans are primarily used to cover payroll expenses, is to apply through their local banks that are familiar with U.S. Small Business Administration (SBA) reporting requirements.
Schwalb also cited TRSA-backed efforts to promote reusable textiles, including recent meetings with Vice President Mike Pence's staff to encourage efforts to diversify the mix of reusuable vs. disposable surgical masks and other personal protective equipment (PPE) used in hospitals.
In a related effort on the hospitality side of the industry, TRSA President and CEO Joseph Ricci announced that during TRSA's next Weekly Update on April 30, Charles Crowell of Milliken & Co. and Ben Fox of Alsco Linen and Uniform Rental Services will kick off a social media drive aimed at promoting the use of hygienically clean reusable table linens, chefwear and other garments for restaurant staff.
In other TRSA-backed response efforts, the association will stage a webinar at 11:30 a.m. Tuesday, April 28, featuring strategic-planning expert and consultant Eric Kurjan of Six Disciplines Consulting Services. Kurjan's talk, titled RESTART – A Return to Business will review the four phases of the recent industry shutdown and map a course back to full operations. In a brief guest appearance on the webinar, Kurjan identified the four phases of the shutdown as "react, reduce, and remain (the latter being where most people are) and restart. Kurjan said his webinar will emphasize strategies for companies seeking to revive their operations. "Next week's session is all about how do I move the organization forward? How do I prepare our organization to be successful in the coming months?" Click here for more information or to register for the webinar.
The TRSA Weekly Update webinar featured two other guest speakers discussing their own strategic-planning efforts to jump-start their businesses.
Karen Griffiths, HR and safety director, for Loop Linen, Westwego, LA, gave a brief overview of her company's response to the pandemic, which dramatically reduced demand for linens in the New Orleans metro area and triggered layoffs of roughly half the staff, from 145 employees on March 1 to 75 employees on March 31. Griffiths described Loop Linen's reopening project as a "reboot" of the company's operations with efforts in a variety of areas. These have included a "unique opportunity" to conduct a thorough cleaning of the plant during the slow period, coupled with outreach efforts to customers to recover linens. Internally, Loop has implemented several measures designed to keep remaining staff healthy, including temperature checks, issuing gloves and masks to employees, and requiring social-distancing measures. "Our new normal for the foreseeable future requires several adjustments to our way of existing while at work," Griffiths said. She added that the strategic reboot is producing results, with recent staff rehires and the addition of routes. Despite the challenges posed by the pandemic, Griffith says she's optimistic for the future thanks in part to the reboot effort. "As COVID-19 has had an unimaginable impact on the world and our business, we are confident that working together, we will recover," she said. "It will take time, patience and strategy, but we are up for the challenge. Stay strong!"
A second guest speaker, Angela Howard, vice president for people development and human experience at Spindle, Woodridge, IL, discussed her company's approach to reopening, with an emphasis on providing support for the morale of employees as they adjust to a "new normal." Howard said employees need extra support to deal with the psychological impact of COVID-19. She and her staff are using meetings with staff and management to emphasize solidarity along with physical safety measures such as social distancing. "We've been ultra-focused on that element as we start to think through the current reality and getting back to work," Howard said. The regular "check-in" meetings are designed to smooth the transition back to regular operations in a way that makes the organization stronger. "Our goal here is to increase connections and build muscle around leadership to be more proactive and nimble," she added. "We really want to shift the focus of transitioning this back-to-work plan for the executive team and the leadership team, but also everyone who interacts with our team members every day." The "Back to Work" action plan, she hopes will lead to a "better normal."
Other topics discussed during the webinar included:
TRSA Senior Editor, Digital/New Media, Jason Risley noted recent TRSA coverage of federal legislation and its impact on the linen, uniform and facility services industry through its Textile Services Weekly Breaking News emails, as well as ongoing highlights of its members response to the COVID-19 pandemic, including efforts by companies such as Aramark Uniform Services, Burbank, CA; Huebsch Services, Eau Claire, WI; and FDR Service Corp., Hempstead, NY, to respond to the crisis by producing face masks and other personal protective equipment (PPE) for healthcare providers in-house. To send your story, image or video for TRSA to highlight online and across its social media channels, email media@trsa.org.
Dennis Mangual, TRSA's director of IT services, also gave an overview of TRSA's On-Demand Learning Center. Visitors can access all of TRSA's webinars through this site. Nonmembers can access this material at a nominal fee; members can do so at no charge. If you have trouble, click on the online "Need Help?" chat area on the lower right part of the TRSA home page at trsa.org. There you can post questions directly to a TRSA representative.
To stay up to date on COVID-19-related legislation, assistance programs, TRSA initiatives, news and information tune into future installments of the TRSA Weekly Industry Update. Click here to review the tentative lineup for presenters and subjects that will be offered in the coming weeks. A recording of the April 23 Weekly Industry Update is available for viewing at TRSA's On-Demand Learning Center.