TRSAPAC Fly-In Features DOL Chief, Hill Meetings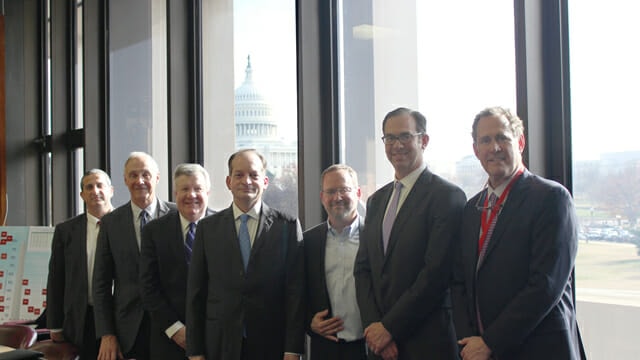 The TRSAPAC Fly-In included several high-level meetings with key regulators and legislators. The linen, uniform and facility services executives that attended the two-day event met with a pair of House members, as well as the Secretary of Labor.
The second day of meetings kicked off on the morning of Dec. 6 with Rep. Susan Brooks (R-IN). Rep. Brooks serves on the House Energy and Commerce Committee, and has served as the chair of the Ethics Committee. After giving an update on the state of the House of Representatives and the Republican Party following the recent midterm elections, Rep. Brooks took questions from the executives in attendance regarding immigration laws and their impact on the workforce, as well as the legalization of marijuana and its effects on business operations.
Following the meeting with Rep. Brooks, the executives moved to their next meeting at the headquarters of the U.S. Department of Labor. In a conference room overlooking the Capitol building, the Fly-In attendees met with DOL Chief of Staff Nicholas Geale and OSHA Deputy Assistant Secretary of Labor Lauren Sweatt. They were joined by Secretary of Labor Alexander Acosta. After talking about the industry and introducing their businesses to the DOL Secretary and staff, the following topics were discussed:
The National Labor Relations Board's joint-employer rule
Association health plans
Industry apprenticeship programs
OSHA VPP and SHARP programs and their benefits
Impact of the legalization of medical and recreational marijuana on drug testing
TRSA SafeTRSA initiatives
The day concluded with a lunch meeting at the Capitol Hill Club with Rep. Garret Graves (R-LA). In a wide-ranging discussion, Rep. Graves talked about funding for infrastructure improvements to help linen, uniform and facility services fleet operations, as well as water-quality regulations and their effect on commercial laundry operations.
The following TRSA members and TRSAPAC donors attended the meetings:
David Hart, M+A Matting
Milton Magnus, M&B Hangers
David Potack, Unitex
David Tingue, Tingue
Doug Waldman, Superior Linen Service
The Fly-In got underway the previous evening with a dinner meeting with Rep. Denver Riggleman (R-VA). To read more about the meeting, click here. To learn more about the TRSAPAC Fly-In program and TRSA's government outreach efforts at the federal, state and local levels, contact Vice President of Government Relations Kevin Schwalb at kschwalb@trsa.org.