TRSA's 109th Annual Conference to Meet in 'Music City'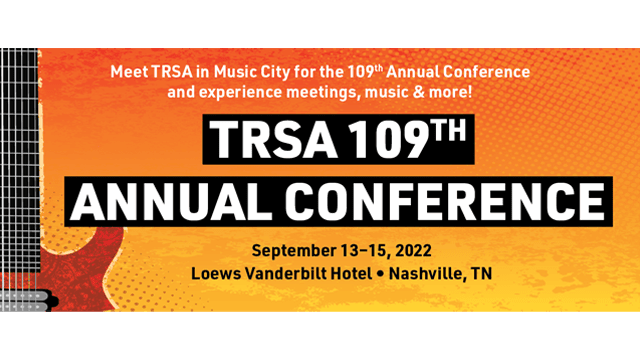 TRSA will host its 109th Annual Conference this Sept. 13-15 at The Loews Vanderbilt Hotel in Nashville. The conference will connect industry leaders, allowing an opportunity to mix professional development and industry updates with social networking and music.
This event will make the most of "Music City," including a group tour of the Grand Ole Opry, TRSA mini musical concerts during the conference breaks, and the spouse/partner musical history tour of Studio B Recording Studio and the Country Music Hall of Fame.
The 109th Annual Conference's extensive agenda will offer general and breakout sessions, as well as Industry Awards recognition, including Operator and Supplier Partner Lifetime Achievement Awards and Volunteer Leadership Awards. Nominations for the awards are currently being accepted through May 31 at www.trsa.org/awards.
Attendees will be inspired and entertained during keynote presentations scheduled throughout the conference. Examples include:
The Stories behind the Songs: Chronicling the Journey through Music and Narrative – Charles Esten, actor, singer, songwriter and entertainer will bring his unique storytelling perspective sharing experiences though narratives and song.
Wherever I Wind Up: My Quest for Truth, Authenticity and the Perfect Knuckleball – Nashville native R. A. Dickey, former Major League Baseball pitcher and bestselling New York Times author, will share some of his life's obstacles, including his hard-scrabble childhood and overcoming challenges in his pitching career.
General Session topics will include:
Bulletproof Selling: Building Sales Systems in the Textile Rental Industry, Shawn Rhodes, speaker and business systems engineer
The Elements of Value, John Brandt, CEO, The MPI Group
Legislative Update with Kevin Schwalb, vice president of government relations, TRSA
In addition, the conference will offer four breakout sessions, including:
The Value Proposition of an Effective Training System, Ian Bigelow and Keith Ware
Three Things You Can Do to Enhance Trust and Teamwork in your Organization, Dan Gonder, owner, president, Strategic In/Sight Partners (formerly SixD Consulting)
Economic and Industry Update, Robert W. Baird Facility & Industrial Services Research Team and Andrew Wittmann, CFA, director, senior research analyst
Learn, Start & Open: Carbon Zero Implications for TRSA, Jeff Strahan, Ph.D., director of research compliance and sustainability, Milliken & Co.
During the State of the Association and Annual Membership Meeting, TRSA leaders will provide an annual update on the association's finances and member-driven initiatives. Attendees will participate in the election of new officers and directors and gain insight into the development of TRSA certification programs, including in-person and virtual events, information-sharing opportunities and industry-specific training.
Registration is open and attendees will save $100 if they register before Sept. 13. View the in-depth session descriptions and register at www.trsa.org/annualconference.