TSA Touts Industry, Apprenticeships at Parliamentary Event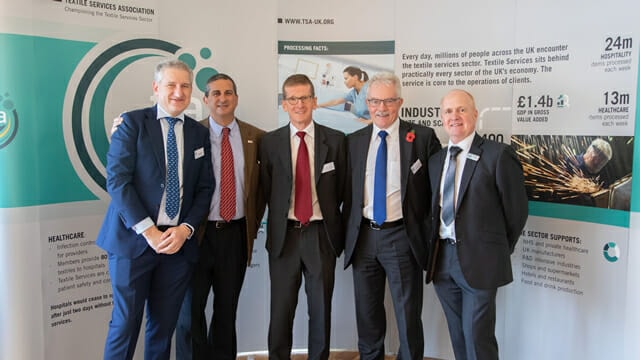 The Textile Services Association (TSA), the United Kingdom's trade association dedicated to protecting, promoting and educating the textile care industry, recently hosted a reception at the House of Commons to highlight textile services contributions to the British economy and celebrate the launch of the TSA's new apprenticeship program.
The event attracted Members of Parliament (MPs), dozens of TSA members, apprentices and representatives from the international linen, uniform and facility services community including TRSA President and CEO Joseph Ricci, European Textile Services Association (ETSA) Executive Robert Long and Laundry Association of Australia (LAA) representative Anthony Kingsley.
Scottish MP Drew Hendry opened the reception welcoming guests to the House of Commons and highlighting the textile services contributions to the UK economy and its direct impact on the ability for the healthcare, hospitality and manufacturing sectors. The UK linen, uniform and facility services sector:
Contributes £1.86 billion to the UK economy
Employs 34,400 people
Pays £260m in taxes
Cleans and launders 53 million individual textile pieces per week including decontaminating 13 million sheets and scrubs a week for England's 142,000 hospital beds and enabling the UK's 45,000 hotels to serve a record 40 million tourists last year
"The report proves that a surprising number of UK industries are reliant on textile services to operate," said MP Hendry "Everyone from patients, tourists, factory workers and chefs rely on products processed by TSA member firms without realizing it. Yet their absence would cause monumental disruption." He also highlighted the value of reusable textiles and the industry's contribution to a green, circular economy.
TSA Chairman Charles Betteridge, Christeyns, briefly discussed TSA's political agenda such as the importance of a flexible immigration system and minimal import tariffs to allow for access to labor, industrial equipment and cleaning chemicals. "Our industry's workforce is made up of 40% non-UK EU Nationals who fear an uncertain status for themselves and their family members, said Beverage, "With 62% of the UK laundry firms unable to filled vacancies, the industry is investing record levels in innovation and automation, but the labor shortage is real and is critical to the industry's sustainability."
TSA Chief Executive Philip Wright closed the presentations by highlighting the association's progress toward training and education for the industry including the apprenticeship program. Despite the program's success, funding and flexibility continue to hinder its effectiveness, said Wright, "These programs should deliver competencies to the laundry, based on knowledge and skills assessments not time."