Turbocharged Engagement: TRSA's 'Supplier Partner' Program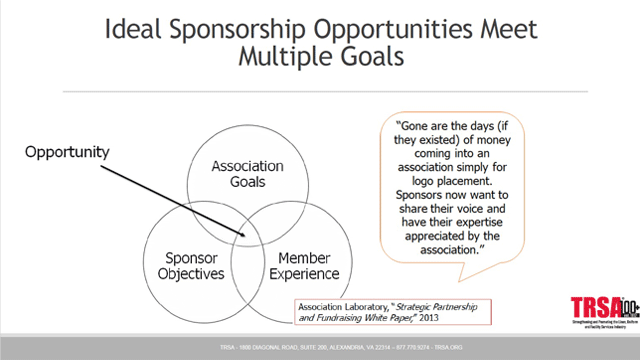 TRSA launched a new era for the association on Oct. 14 with its announcement of a new "Supplier Partner" initiative. The goal of this effort – outlined during a 2 p.m. webinar – is to boost the value of industry suppliers in the association through a range of innovations, including a new "Supplier Council" with an expanded role in advocacy and association governance, plus a strategically focused  sponsorship/advertising program dubbed the "2021 TRSA Business & Marketing Opportunities."
TRSA President and CEO Joseph Ricci kicked off the webinar, which drew roughly 50 attendees, by highlighting recent calls he's made to more that 70% of TRSA's operator members. The focus of these calls was to check on business conditions amid the pandemic. Ricci noted that a large number of operators have recovered to nearly 90% of past sales, but some, especially those in the hotel and food-and-beverage sectors, are still down 50% or more. Ricci promised a similar series of calls to industry suppliers in coming weeks. He noted the high level of participation that industry suppliers provided during the worst days of the pandemic and how their commitment encouraged the TRSA Board of Directors to expand the role of supplier companies in the association. "We made a tweak to our strategic plan, adding supplier partners as a primary audience for us," Ricci said. "We also had a change to the bylaws, changing the name from Associate Member, which we thought was not the best way to talk about our supplier partners, to Supplier Partners to help better serve them."
One key outcome of this shift in strategy is the 2021 TRSA Business & Marketing Opportunities, which is designed to boost sponsorship opportunities by making them more strategic in order to deliver better results to Supplier Partners. The program also includes online and print advertising options that can complement sponsorship through a simplified "bundled" approach to marketing. To craft these ideas into a working system, TRSA retained J.P. Moery, a business consultant with wide-ranging experience in developing proactive marketing programs for associations. In an example of bundling, Moery touched on the Five and Four Star, Premium and other sponsorship/advertising packages as a three-way win for Supplier Partners, operator members and TRSA. "The association is going to achieve some of its goals by generating revenue through the program," he said. "The sponsors are achieving more of their business objectives by meeting new clients and proving their service deliveries. We wanted to make those things happen and through that, with the sponsorship program, the experience for the operator members increases. There's more funding for the program, the event's better, the online delivery is better. Everybody's experience improves."
Other innovations related to the TRSA Business & Marketing Opportunities program, which is available through TRSA Ad Representatives Shawn Register (sregister@trsa.org) and Chris Kennedy (kennedy@trsa.org) include:
Virtual Plant Tours: The first of these is slated to air during the upcoming TRSA Healthcare Conference at 11 a.m. on Dec. 3. Supplier Partners that sponsor the online program benefit from this program through participation in Q&A during session breaks. They also will receive either a portion or all of a professionally shot and edited video for their use in promoting their products. The operator of the plant for this inaugural virtual tour is Ecotex Healthcare Laundry Services. Ricci pledged to continue these programs if they prove popular. They're especially important now, given that customer and supplier access to plants is limited because of concerns about COVID-19
Regional Events: TRSA has sponsored these in the past in cities such as New York, Chicago, Los Angeles and others. Once live events resume in the coming months. Sponsoring a regional event or similar programs can help Supplier Partners raise their profile by having their logos included on program materials. Ricci emphasized that these and other events will include extensive lead generation in the form of attendee lists before, during and after the program. This will allow Supplier Partners to follow up with individuals who attend the programs.
Institute Sponsorships: Ricci described this sponsorship of the Executive Management Institute (EMI), the Professional Management Institute (PMI) and the Maintenance Management Institute (MMI) as an opportunity for Supplier Partners to forge ties with rising and current executives in the industry. They'll also allow Supplier Partners to present their executives as "thought leaders" through speaking engagements during graduation programs and other high-profile contacts with attendees.
In addressing the second major initiative announced during the webinar, Kevin Schwalb, TRSA's vice president of government relations, discussed raising the profile of Supplier Partners through the establishment of the Supplier Council. "I am really excited about this program," he said. "It's in its infancy stages. We've had one meeting with a very focused group of 'advisers.' I'm going to call on them to help us get this off the ground."
The Supplier Council is designed to elevate the role of industry suppliers beyond the work of its predecessor organization, the Associate Member Committee, which it's replacing. The Supplier Council will serve as an advocacy group in its own right, with Schwalb and other TRSA staff working as needed to defend its interests with federal and state regulators and elected leaders, Schwalb said. The Council also will have broader influence on association policy. The idea is for TRSA to fully represent all segments of the linen, uniform and facility services industry. At the same time, the council will help foster enhanced professional networking among industry suppliers on common concerns. "The supplier council is going to be designed to not only take the place of the Associate Committee," Schwalb said. "But to give you, our Supplier Partners, a larger voice within the association." He noted for example that plans are in the works to develop a Legislative Conference dedicated specifically to Supplier Partner concerns. Supplier Partners who want to participate in the Council or have questions about the new program may contact Schwalb at kschwalb@trsa.org.