'Two Thumbs Up': EMI Grads Win with Knowledge, Networking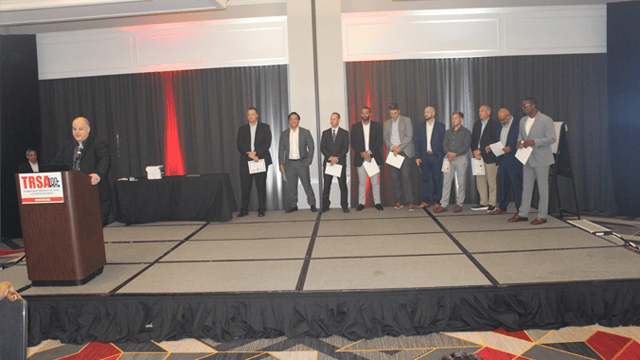 Cory Rosenberger, HCSC-Laundry, addresses attendees at TRSA's Aug. 11 Executive Management Institute commencement
Roughly 200 guests, students, faculty and staff attended an Aug. 11 commencement program at the University of Maryland that saw 11 leaders of laundry and supplier partner companies graduate from the association's four-year educational program that's designed to take their careers to new heights.
"It's just been absolutely fantastic," said Cory Rosenberger, HCSC-Laundry, Allentown, PA. "I would absolutely recommend it to everybody. It's invaluable for your growth."
Rosenberger's remarks were part of a longstanding tradition at the Ehrlich-Stempler Executive Management Institute (EMI), which just completed its 57th yearly edition. Each class selects a speaker for an "open mic" opportunity to address the attendees. Another EMI tradition is for classes to stage skits, often with a focus on poking fun at EMI instructors and fellow students. Perhaps due to COVID-19 and the ongoing challenges of labor and supply-chain shortages, this year's commencement program was more subdued than in past years. There was a strong theme of expressions of gratitude during the Aug. 11 commencement. Rosenberger and others thanked the faculty, fellow students, family members, and TRSA's Director of Education and Events Salita Jones, plus staff at the host facility, the College Park Marriott Hotel & Conference Center, Hyattsville, MD.
Year III speaker Mike Miller of Thermopatch Corp. emphasized the value of peer-based learning with guidance from skilled faculty members, such as EMI's Joe Currier. "What we've done in the past couple of years has been one of the most rewarding weeks of our careers," Miller said. "We learned a lot about who we are as individuals and as a team." Miller commended Currier for building strong ties with the Year III class. "Joe, you took eight people who just worked together and turned them into people who really know each other," Miller said. "I think that we will all take away a piece of this week, regardless of which steps we go down from here on out."
The year II attendees injected some levity into the program with their skit, a takeoff on the 1960s sitcom, The Newlywed Game. Two student "contestants" posed as newlyweds and separately answered a question, such as "Where did you meet each other?" One contestant said at an Alsco Uniforms conference. The other said EMI. The cleverly devised skit drew a number of laughs.
With nearly 40 students, EMI's Year I class was among its largest ever, according to EMI Dean Kent Baker, who's served on the EMI faculty since 1976. He summoned the Year I students to the stage, noting that, "If I'm not mistaken and somebody correct me if I'm wrong, but I believe that this is the largest class that we've ever had." He added that size hadn't inhibited the lively discussions that had taken place during the week.
TRSA President and CEO Joseph Ricci closed the program, thanking students, faculty, staff and the program sponsors for helping to make this year's EMI program possible. The sponsors included Kannegiesser ETECH, Brim Laundry Machinery Co. Inc., G.A. Braun Inc., JENSEN, Lavatec Laundry Machinery, Pellerin Milnor Corp. and Unitex International Inc.
Ricci had opened the program noting that students, faculty and TRSA staff had earned "two thumbs up" for their efforts throughout the week of EMI. He urged the students to remain active in TRSA and the industry. "Most of you sitting here will be the future leaders of the industry 5,10 or 20 years from now," Ricci said. "I encourage you to stay engaged."
A closing message on a video screen next to the stage summed up the evening's mood quite well. It read. "Don't cry because it's over. Smile because it happened." The quote was from Theodore Geisel, aka Dr. Seuss.
Members of the 2022 EMI graduating class included:
Michael Bonn, Alsco Uniforms
Davis Curtin, Alsco Uniforms
Andreas Frey, Alsco Uniforms, Denver Industrial
John Jaggi, Alsco Uniforms
Edwards Jimenez, New York Laundry
Greg Kimmel, Kimmel Corp.
Ruel Lunar, Alliant Systems
Sergio Pena, Roscoe Co.
Kerry Roberts, Alsco Uniforms
Cory Rosenberger, Hospital Central Services, HCSC-Laundry
Kasey Wahl, WSI
To learn more about EMI or to register for next year's session click here.