Two TRSA Supplier Members Aid Restaurants, Healthcare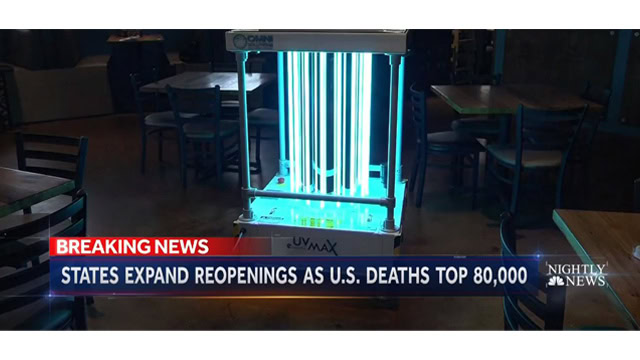 As restaurants and other public places begin reopening this spring, and healthcare providers continue efforts to protect staff and patients from infection with COVID-19, two TRSA suppliers have collaborated on a mobile UV light system that kills microorganisms in dining rooms, hotels, ambulances and other facilities, according to a news release.
"Energenics and OMNI Solutions have collaborated to offer UV technology for surface disinfection," said Bryant Dunivan, vice president of sales and marketing for Energenics Corp., Naples, FL. "There is a unique unit that companies are now selling called UV-MAX LOW PROFILE, recently dubbed 'Nomad.' The unit is very compact, and it will fit in small spaces and has a flip top for ceiling coverage."
The collaboration between Energenics and OMNI Solutions, Baraboo, WI, dates to April 27, when Christy Perdue of OMNI contacted Dunivan asking if they could deliver a UV MAX unit to the Mayo Clinic in Rochester, MN, by May 7. Local news media were expected to be there to cover a visit by Vice President Mike Pence (R) to that acclaimed hospital complex. The team delivered the machine two days early – fortuitously as Dunivan pointed out – because the timing of the event was moved up by two days. "The unit operated with flying colors, and the demonstration was complete," he said. Mayo intends to use the system to disinfect their ambulance fleet. Click here for details.
Less than a week later, the Nomad was in Arizona, where a restaurant owner was putting it to work disinfecting the building's interior as a safety precaution for diners at its Phoenix and Scottsdale locations. This showing also drew local media attention. Click here for details.
In addition to the UV system, OMNI is offering a "Shock and Shield" disinfection program that features a nontoxic spray substance that remains on surfaces and uses microscopic needles to puncture the cell walls of any pathogens that land on the area. Click here for details.