Tyler Retires from Encompass; Will Pursue Consulting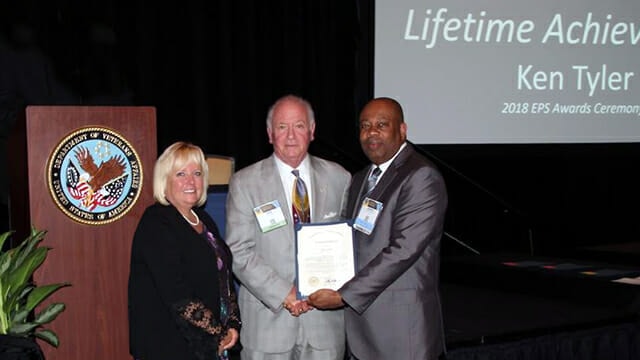 Ken Tyler, who over a long career has played leading roles as a combat Marine, an executive overseeing laundries for the U.S. Veterans Administration, and most recently as a vice president of government operations for Encompass Group LLC, recently announced plans to retire from his post with the textile supplier.
"I had a great tenure with Encompass," said Tyler of the business based in McDonough, GA. "It's a great company. They understand. It's time to go."
Tyler says he has no intention of slowing down. He'll continue to work on a consulting basis with Encompass for the near term. However, he also expects to pursue work as a consultant on laundry projects, including advising international clients. "I've got some opportunities that I'm going to take advantage of, particularly in China," he said. "It'll get me back into the laundry business before you know it." Tyler will seek to advise clients in a variety of areas, including designing and building laundries, or "wherever I can be of assistance."
Tyler recently was recognized by the U.S. Veterans Administration with a lifetime achievement award.  He served as chief executive, textile care division, at the VA Headquarters in Washington, DC, from 1977-2000. He's best known for his development of the Laundry Modernization Program, where he oversaw improvements at 54 facilities (valued at $175 million) and the construction of 15 new VA laundries (valued at $140 million). He was active in the management of the VA Laundry Consolidation Program in which the VA consolidated 73 plants into 41 facilities. Long active in TRSA, Tyler serves on the association's Healthcare Committee.
Tyler joined the U.S. Marine Corps in 1966, and received the American Spirit Honor Medal that year after graduating from Marine Corps Recruit Training in Parris Island, SC. Tyler has received more than 30 combat decorations, including the Silver Star and two Purple Hearts. He retired from the Marine Corps Reserve in 1993 after 28 years of service.