UniFirst Cuts Ribbon at New Facility in Hammond, IN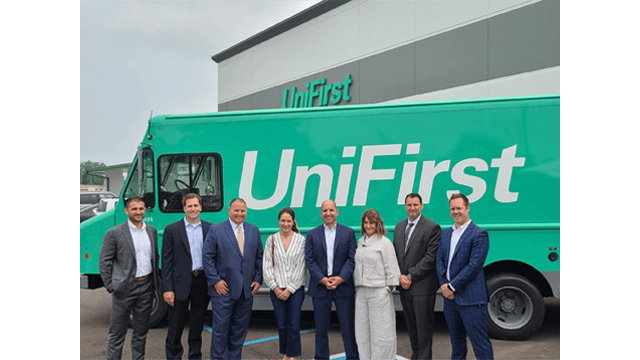 UniFirst Corp., Wilmington, MA, recently hosted a ribbon-cutting ceremony to celebrate the grand opening of its new 64,000-square-foot, state-of-the-art industrial laundry plant in Hammond, IN, according to a news release.
Developed to accommodate a rapidly growing customer base in the Greater Hammond, Chicago, Evanston, Orland Park and surrounding communities, the new customer-servicing plant replaces a smaller (outgrown) Hammond-based branch location and features the latest innovations in textile services technologies and automation. The new operation and its team of 80 employees provide local businesses with personalized service programs for uniforms and workwear, as well as facility service products like floor mats and mops, wipers and towels, and restroom and ancillary business products. All employees from UniFirst's previous Hammond facility have transitioned to the new location, and an expected 15% increase in staff is expected over the next few years to accommodate projected growth.
"Our new Hammond facility is at the forefront of the latest advances in uniform and textile service technologies and innovation," said UniFirst president and CEO Steven Sintros. "Its high-tech processing systems and our dedicated staff will allow us to maximize service levels to area business customers' and will help ensure they are consistently receiving the very best products and personalized attention possible for years to come."
Spanning five acres, the new facility also has an eye on the "greener" side of operations, supporting greater energy efficiencies through investments that include heat-reclaiming equipment, contemporary rooftop HVAC units, the latest-generation machinery that requires less natural resources (gas, electric, water and detergents) for the production and hygienic laundering of garments and textiles, and eco-conscious warehouse and office lighting. In addition, all cleaning formulas and detergents are 100% environmentally friendly, and natural light throughout the plant offers a positive employee boost to the workday while saving on energy.
"To say we're excited to bring this world-class operation to the Greater Hammond and Chicago markets would be an understatement," said General Manager Darren Lane. "Our Hammond facility houses the very best of all the technological advancements we've made over the years and serves as a model for new UniFirst servicing operations to come. It also reinforces our ongoing commitment to quality, efficiency and industry-leading customer service, and represents UniFirst's long-term commitment to the local business community."
The grand opening ceremony included Hammond Mayor Thomas M. McDermott Jr., First District Councilman Mark Kalwinski and members of the Hammond Redevelopment Commission (HRC), as well as UniFirst executives and staff. TRSA Chair Noël Hammer Richardson and Vice President of Government Relations Kevin Schwalb attended the event, which concluded with a tour of the new facility and a catered lunch.