Unitex Centennial Celebration Reflects Appreciation for Employees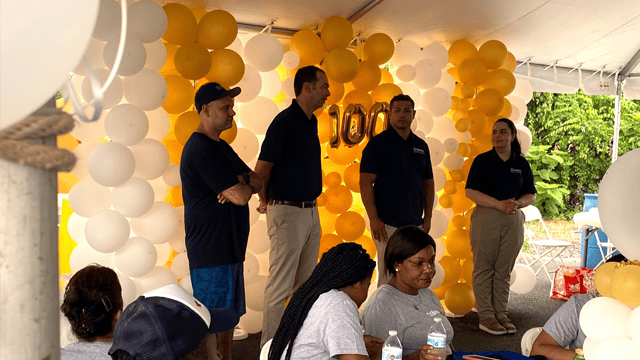 Unitex Healthcare Laundry Services' 100th birthday commemoration July 25 was much less of a history lesson for employees than an expression of management's appreciation for what they do for the company today. Witnessed by TRSA at the company's Linden, NJ, facility, the celebration stopped production for two hours, enabling employees to socialize across all departments outdoors under a tent filled with balloons, enjoy a catered buffet and take away prizes. Even drivers returning from their routes got into the act.
A little extra work here and there kept the plant on schedule.
Rather than the usual staggered lunch breaks by department, all employees were invited to line up for the buffet at noon and go back to work at 2 p.m. This practice and duration applied to celebrations across the company, with family owners (Chairman Michael Potack and sons CEO Robert and President David) individually covering multiple facilities in New York, Connecticut and New Jersey, respectively. Some locations started at 11 a.m., enabling the execs to cover more than one.
In Linden, cohesion among diverse employees was evident in greeting David, as the whole group rehearsed and then executed upon his arrival a rally chant in English for the next millennium of company success, "100 MORE!" Many in the Linden workforce are native Spanish and Creole speakers. See TRSA video of his arrival with son Justin.
In another TRSA video, echoing his comments to the employees, David said, "We have an innumerable number of people to thank—people who are on our team now and many people who came before us who have allowed us to get to this anniversary. Our company culture of work ethic, commitment and longevity, shines through on a day like this. We are incredibly humbled by the effort and time that so many of our thousands, or tens of thousands, of team members have put in, as the building blocks to get to this anniversary."
Each department benefited from its own separate price drawings for gift cards and electronics. A laptop or TV was the grand prize for each of the seven (soil, dry/fold, sheet, packout, maintenance, transportation, management). Backpacks with the centennial logo were given away, too. Everyone received a shirt commemorating the centennial, with polos for management and T-shirts for everyone else.
All employees could play cornhole, when anyone who landed the bean bag was invited to dump a one-gallon-plus pitcher of water on Plant Manager Frank Lukic. Employees also watched him face an ice bucket challenge.
Desserts included bagged ice cream treats and mini-cupcakes.
Founders Day festivities might have culminated the 100th anniversary but the commemoration will continue through continuing promotion of the milestone. With the company's regular logo, the anniversary logo is on trucks and building window decals. Inside the Linden plant, it's on banners, including a thank-you to employees for their hard work, and a congratulations message to them for winning TRSA's 2022 Best Plant of the Year award (English, Spanish, Creole).
Panorama video of lunch tent in Linden
Employee delighted with prize won in soil department's drawing