Unitex Expanding Lawrence, MA, Plant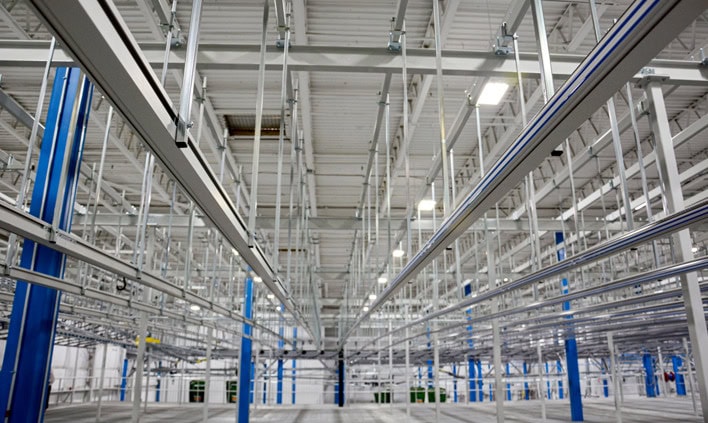 A mezzanine area above the floor of the new Unitex plant in Lawrence, MA, that will process outpatient medical textiles
Dacon Corp., a Massachusetts architectural firm, recently announced the addition of 97,000 square feet (9,011 square meters) of production space at the new Unitex healthcare textile processing plant in Lawrence, MA. The expansion, which will focus on the processing of healthcare garments, will complement the first phase of the project, a 90,000 square-foot (8,361 square-meter) bulk hospital/long-term care linen plant on the same site.
"Unitex is excited to expand our client-service offerings in the greater Boston and Eastern New England markets with the construction of our newest facility, which will focus on outpatient and ambulatory healthcare locations," said Unitex President David Potack. "Boston is truly a healthcare hub for growth and innovation. Our increased capacity to serve new clients in this market is an exciting development in the evolution of our company. We are proud of our record of constructing environmentally sustainable laundry facilities, where automation is paramount and helps us deliver reliable, consistent high-quality service and products to our clients every day."
The Unitex plant in Lawrence is the company's first location in the Bay State. Founded in New York City, Unitex also recently marked its 100th anniversary. David and Rob Potack are serving as fourth-generation leaders of the company. Unitex operates 13 facilities in New York, Connecticut, New Jersey and now Massachusetts. Several of these plants, including the Lawrence facility, are certified to TRSA's Hygienically Clean Healthcare standard. That program documents that laundries adhere to best-management practices and undergo quarterly testing of textiles to ensure that they do not carry microorganisms that could transmit diseases.
The Lawrence plant is also built with sustainability in mind. This "green business model" includes modern systems that save on energy and water. Examples include:
Waste heat reclamation that yields natural gas savings equivalent to usage by 1,200-plus households and electricity savings sufficient to power 200-plus homes per year.
Water technology that reduces detergent use and excess water waste, resulting in annual water savings equivalent to usage by 5,000 homes.
Dacon Corp. CEO Kevin Quinn says he admires Unitex's approach to processing healthcare textiles. "Unitex's long-term heritage, community focus and environmental commitment underscore their business ethics and acumen," he said. "It has been a joy working with them."  Click here to read the full release.