Unitex, 'Grad Bag' Aid Low-Income Students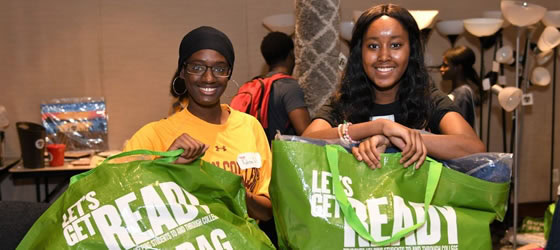 Students pick up needed items for their dorm rooms or apartments as part of a "Grad Bag" program designed to help low-income students prepare their living spaces for the fall semester. Photo Credit: Mark Jessamy
Unitex, Elmsford, NY, is contributing in-kind services across the Northeast as part of a charitable effort aimed at helping low-income college students outfit their dorm rooms and other living quarters this fall, according to a news release.
"We are enormously thankful for partners like Unitex," said Liz Gruber, co-founder of the not-for-profit "Grad Bag," which collects and prepares new or gently used donated items such as rugs, fans, desk lamps and bedding for distribution to students who otherwise couldn't afford to purchase these goods.
Launched in 2012, Grad Bad is a green initiative designed to cut down on waste when students leave dorm rooms or apartments at the end of a school year and no longer need items such as extra-long twin sheets. Rather than trashing these goods, Grad Bag has them cleaned and prepared for other students to use when they begin college in the fall. The program began as a grassroots effort among a small group of friends and neighbors. Donated goods were cleaned and stored by volunteers in basements and closets. Since then, Grad Bag has grown steadily. Today, it serves hundreds of students at nearly a dozen universities in metro New York and Boston.
As the program grew, Grad Bag partnered with a not-for-profit group called "Let's Get Ready" (LGR). This organization specializes in supporting first-generation college students and low-income high school students as they prepare for the college admissions process and beyond, the release said.
Students obtain their goods in August at a free "store" set up in meeting rooms on college campuses after attending an LGR pre-college transition workshop.
Last year the group distributed 6,000 lbs. of linens, as well as lamps, rugs, storage containers, etc. to students in need. This year, LGR workshops and goods-distribution sessions are happening in New York City and Westchester County, NY; as well as in Boston and Maine.
For its part, Unitex has picked up, laundered, folded and returned some 4,000 lbs. of linens in the New York area alone, the release said. Unitex President and TRSA Chair David Potack said he and his staff are pleased to help young people in need who are pursuing higher education.
"We are happy to partner with Grad Bag and look forward to helping this incredible organization for years to come," Potack said. "We continually work with schools across the Northeast and this is just another layer of helping students where we can." Click here and here for details.