Value-Based Healthcare – Thriving on Change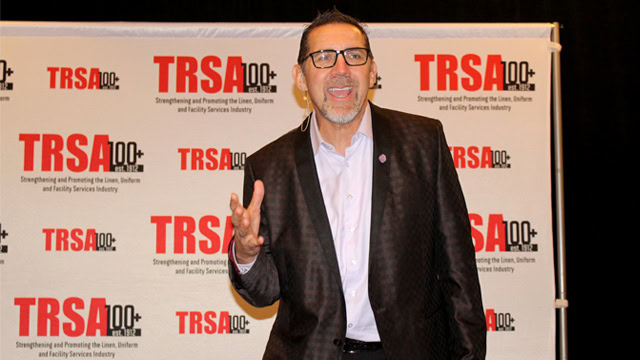 Dr. Josh Luke, a hospital executive and educator, addressed a range of issues facing healthcare providers and how they impact suppliers such as commercial laundries during a keynote address to nearly 180 attendees at TRSA's Eighth Annual Healthcare Conference.
Dr. Luke kicked off the first full day of the Nov. 19-21 program at the Hyatt Regency Mission Bay in San Diego with a discussion of how healthcare is moving to a "value-based" system of cost-control. That means that in most cases, budgets in the follow-up to the Affordable Care Act's passage in 2010, will mean hospitals and outpatient centers keep tight controls on spending. At the same time, the old "fee-for-service" model that pushed "heads in beds" is out. The trend that's growing now is moving patients to home-based care, plus a continuing shift from acute-care to outpatient services (in part to save money).
Laundries can benefit from these trends, Dr. Luke said, by providing hospitals with a "go-to expertise" on any issue related to textiles. Flexibility and a skill at adapting quickly to change also can benefit laundries, and could particularly benefit small, more nimble companies.
"Basically, in an insurance model, you're responsible for managing 'my mom's' care with that $1,000 regardless of what it costs you," he said, speaking of Medicare/Medicaid limits on spending. "It's hard for a lot of people to get their arms around the fact that the hospital now is the one getting the $1,000 instead of the insurance company. How do you profit in an insurance model? You control costs – lowest-cost provider – and you grow revenue, you grow members (customers). That's it. That's the model."
Dr. Luke went on to discuss:
Sharing best-practice collaboration tactics to drive sales and results
The importance of becoming the true expert to your client for "all things linen & facility services"
Preparing laundry operators to pivot, transform, adjust and thrive in the new model
"In-patient's going to transition to outpatient," he said of the evolution of care in today's healthcare market. "You want to become the one provider, the one phone call I make for all things in your service area. Technology's becoming more of a premium. Health systems and hospitals are looking for one provider for multiple solutions."
Smaller companies can be better positioned to fill this role, he said, citing as an example his own experience as a hospital administrator needing flexibility on payment programs based on the provider's cash-flow situation. "It's a cash-flow issue with me. It's all going to come down to, 'Can I pay for it and can you be flexible with me?'"
Dr. Luke identified four key issues for hospital executives that laundries need to understand: cost, quality, workflow and responsiveness. Often, nonprofit or academic hospitals will invert this order to one that emphasizes quality over price. The challenge for laundries is to show the flexibility needed to understand these requirements and meet healthcare providers' needs. As costs rise across the board, "Everybody's getting squeezed," he said. "Don't wait. Open your mind to how it's changing." This includes focusing attention on the transition to outpatient care and home-based care and the opportunities these shifts represent for laundry operators.
Other general sessions at the conference included:
Long-Term Care Market Opportunities: Mike Lang of Unitex and Liz Remillong of Crothall presented findings from a research project they led for TRSA's Healthcare Committee on opportunities in the long-term care market. Lang and Remillong discussed their task group's creation and distribution of marketing materials, including a white paper, that emphasize to nursing home managers the cost benefits of outsourcing textile processing to commercial laundries.
Current Healthcare Related Market Research Review: This three-part session kicked off with a live feed from the United Kingdom with Dr. Katie Laird, a biologist and professor at De Montfort University in Leicester, UK, on a new standardized method for determining the antimicrobial efficiency of laundry processes. Specifically, Dr. Laird's research focused on the potential danger of nurses washing their scrubs at home because the home washer may not kill all microorganisms. The live feed included questions from the TRSA audience in San Diego. Other presentations included a discussion by Dr. David Goldsmith of George Washington University on plans to develop a peer-reviewed journal article on the development of TRSA's Hygienically Clean Healthcare certification program. A third presenter, Steve Tinker of Gurtler Industries Inc., focused on a peer-reviewed article that confirmed the efficacy of peracetic acid for killing C. difficile spores in a tunnel washer.
Healthcare Benchmarking: Rick Kislia, retired COO, Crescent Laundry, and Chuck Rossmiller, director – laundry programs, Medline Industries Inc., reviewed findings of a survey of 48 laundry operators. The survey asked 27 questions about various aspects of their operations, such as work with acute-care hospitals as opposed to outpatient centers. The survey showed a significant shift to clinic-based care. For example, the respondents said they serviced 200 clinics in 2009. A decade later, that figure had risen to 3,000 clinics. Another response showed that less than two-thirds of the respondents currently process cubicle curtains for healthcare customers.