'Vax to the Future': Alsco Launches Lottery to Encourage Vaccinations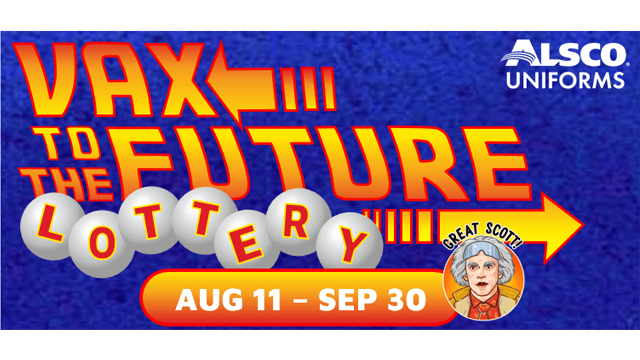 For several months, COVID-19 vaccines have been widely available across the United States. Alsco Uniforms remains committed to working closely with public health agencies in facilitating the vaccination of its employees. The latest in this encouragement from Alsco is a vaccination lottery called "Vax to the Future," according to a news release.
The Vax to the Future lottery for Alsco employees runs for the next six weeks and gives employees who receive at least the first shot of the vaccination the opportunity to win up to $35,000 over several drawings. The first three drawings offer opportunities to win $10,000 to one newly vaccinated employee each drawing. The grand prize drawing for one of four chances to win $25,000, will be held in October and will be for all vaccinated employees, including those vaccinated prior to the lottery.
"We're excited to offer this vaccination lottery to all Alsco Uniform employees," said co-CEO Robert Steiner. "It's a win-win for employees still sitting on the fence. By getting vaccinated, you either can win a lot of money, but more importantly you keep yourself, your family, co-workers and community healthy and safe."
Co-CEO Kevin Steiner said, "Alsco Uniforms is not just offering this vaccination lottery but has previously given PTO, cash bonuses and sick days to employees who get the vaccine. We're doing all we can to fight COVID-19."
Alsco Uniforms is committed to preventing the spread of COVID-19. To read the full release, click here.