Virtual Roundtables Engage Members in Sharing Experience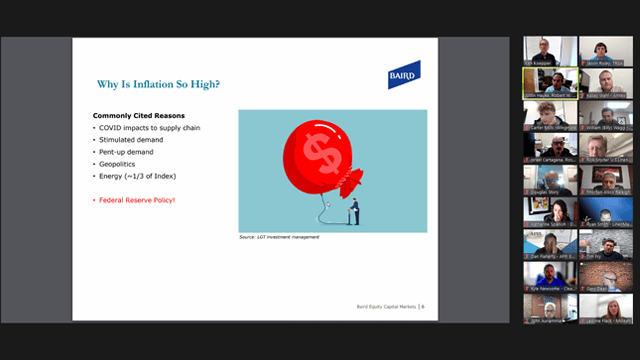 Smaller group interaction moderated by TRSA leaders and a focus on impacts of inflation on the industry marked the Oct. 12-13 TRSA market-specific virtual roundtables on Zoom, keeping a steady flow of conversation for each hour-long discussion as members shared their experience with issues related to labor, supply chain, customer communications and more.
The Oct. 12 roundtable, programmed by the F&B/Hospitality Committee, split the audience in two, enabling linen, uniform and facility services operators who concentrate on one or the other (restaurant vs. hotel linen service) to factor this specialization into the discussion. Keith Pooler, owner and VP, Sacramento (CA) Laundry, and Sarah Sinclair, CEO, LinenMaster, Vero Beach, FL, moderated.
Subjects covered in both the hospitality and F&B groups, with F&B moderators for each issue:
Here Come the Robots. Knowing humanoids won't be replacing humans in laundries anytime soon, participants considered how incorporating more robotics in machinery might increase productivity. Mario Stagliano, partner, and Mark Harad-Oaks, human resources director, Arway Linen and Uniform, Philadelphia, moderated.
Redefining Too Little, Too Much Service. Operators walk a fine line with customers who have high service expectations in the COVID-induced new normal. At times, though, you've still got to go the extra mile. Billy Wagg, president, Wagg's Ltd., Orillia, Ontario, Canada; and Mark Kowalski, managing partner, Envise Partners, Plymouth, MN.
Your Workforce is Better than Theirs. While the industry is beset by labor shortages and supply issues, it's fundamentally strong as outsourced labor. The challenge has become maintaining a team that can preserve margins while satisfying customers. Richard Marzo, VP, Lace House Linen Supply, Petaluma, CA; and Steve Cooker, VP, client services, Infinite Laundry, Coral Springs, FL.
On the next day, the Industrial, Uniform & Workwear Committee staged the TRSA Inflation Roundtable, which had separate discussion groups for linen suppliers and industrial launderers. Following this interaction, Justin Hauke of Robert W. Baird & Co. offered his firm's insights into how inflation might moderate.
Hauke, VP and senior research associate for the Milwaukee-based multinational independent investment bank and financial services company, has covered the uniform rental sector for the firm for 15 years. He pointed out recent retreats in the costs of cotton, natural gas, chemicals and oil, but noted that winter demand could affect prices. Overall, commodities are still high. And the most recent Producer Price Index wasn't as encouraging as hoped.
Topics and moderators for this roundtable:
Strategies for Soaring Energy Prices. Contributing to mounting pressure to increase efficiency is the lack of an alternative in the short run to pay what utilities charge. Participants reported what they've seen in energy markets and what they've heard about an eventual leveling or decrease in prices. Israel Cartagena, maintenance, fleet and utility team leader, Roscoe Co., Chicago; and Dan Flaherty, senior consultant, APPI Energy, Salisbury, MD.
Solutions to the Labor Dilemma. Although no one seemingly can avoid paying higher wages, the value proposition of such pay still needs to be weighed. Operators are more attentive to productivity measures than ever to determine which workers are becoming more productive, as well as encouraging veteran employees to remain. Tim Fry, president, CVR Uniforms, Shippensburg, PA; and Justin Hauke, Baird.
Mitigation Tactics for Choked Supply. Attendees shared COVID-proven practices for finding alternative suppliers, prompting customers to accept alternative products, cost-effectively maintaining larger inventories and more. Kyle Newsome, supply chain manager, CLEAN Uniform, St. Louis; and Gary Dean, consultant, Performance Matters Consulting, Fort Mill, SC.
Both roundtables presented the TRSA Member Marketing Toolkit (www.trsa.org/toolkit), which provides text, images, layouts and guidelines for operators to easily create media campaigns. These computer files enable you to build campaigns that address what decision makers and end users care most about regarding their purchase of linen, uniform and facility services. Recommendations are based on a year of researching customer industries and consumers, emphasizing these audiences' beliefs and priorities in describing core benefits of doing business with your company.